Make Your Loved Ones Smile in Halloween with Customized Halloween cards
Spooky times are looming when the trees begin changing colors, the days become shorter and the crisp cool air of fall descends upon us. This is the perfect time to send a fright to your friends and family members because Halloween is near. Also, it's high time to make them smile with your unique Halloween cards. However, the question then arises: Where to find the best greeting card maker to make personalized Halloween cards with your own photos and words?
If you happen to surf the Internet to find a powerful card maker and get great Halloween gift ideas, you have come to right place. Greeting Card Builder mentioned in this article is an easy-to-use and quick card maker that enables you to create amazing Halloween cards. Now download it here and follow the below guide to start your wonderful creation.
Step1. Choose a Halloween Template
Launch this greeting card maker and then click Create From Template to choose a Halloween template that best suits your style in the popup window. Here you can check Change Template Size and freely choose your favorite Page Size to apply. Next click Load to start customizing your work.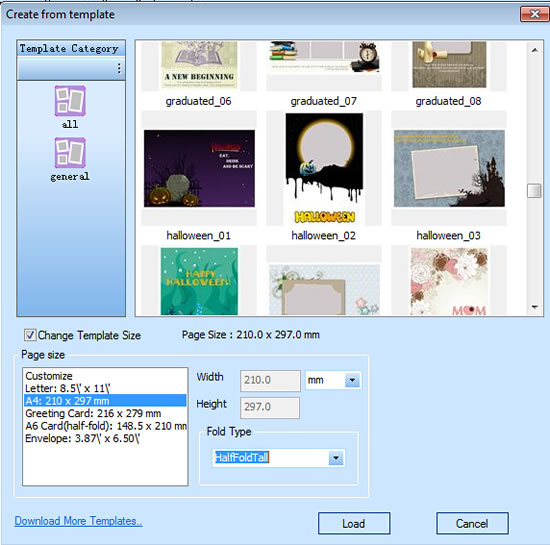 Step2. Add Photos of Halloween Celebration
You must have taken tons of beautiful photos when you were celebrating Halloween with your friends or family members. This great greeting card maker provides you a good way to keep your special memories alive instead of letting them fade away with time passing by.
Now click Add Pieces→ Add Photo to add wonderful pictures from your local disk into the edit area. Once you've added all the photos you want to display, you can click once on each photo and then click Edit Pieces button on the top of window to rotate, apply shadow, etc. to get your last satisfaction.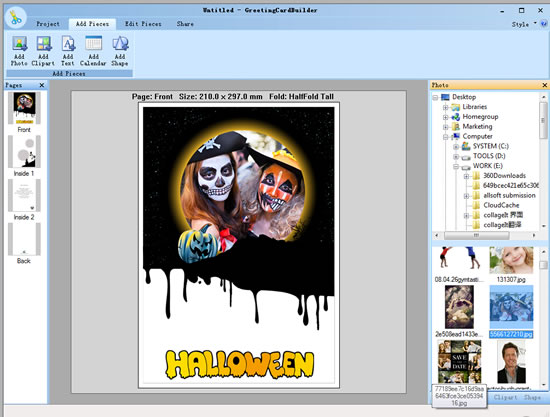 In addition, applying beautiful clipart into the edit area is a perfect way to decorate your Halloween card and add a mood of celebration at the same time. Click Add Pieces→ Add Clipart and then add your favorite Halloween clipart on the right side by directly double clicking or simply dragging.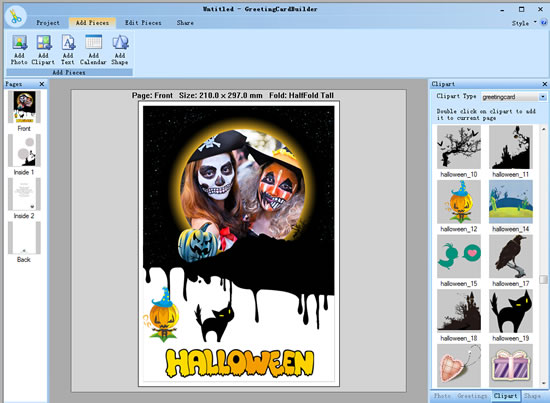 Step3. Add Your Sincere Halloween Wishes
Editing some sincere Halloween wishes into the text box is an integral part of any complete card. Click Add Pieces→ Add Text on the top of window to type your best wishes that help you subtlety show your deep feelings. Also, this greeting card maker allows you to freely set font size, color, style, etc.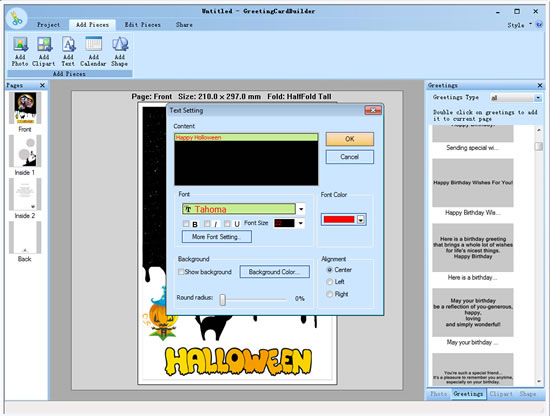 Step4. Print Your Unique Halloween Card Out
Satisfied with all your settings? If the answer is yes, you can consider printing your card out. Click Share → Print on the top of window to directly print it out. Furthermore, you can click Print Preview to preview your final card before you print it out. If necessary, freely make some changes to get the best effect.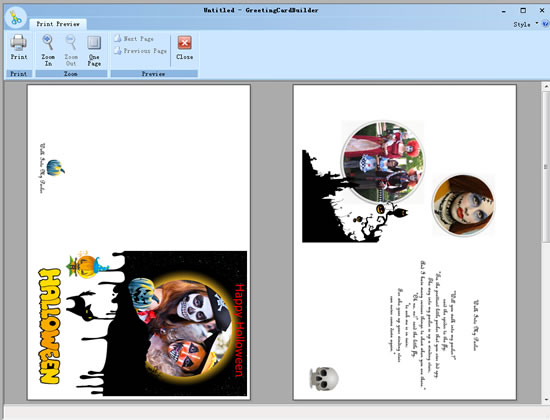 Are you still looking for something special to give to your friends or family members in Halloween? Consider downloading this easy-to-use yet powerful greeting card maker that will never let you down. Wish you can create unique Halloween cards with the simple four steps mentioned above.
Related Articles