Memorable Graduation Party Invitations Made So Easy & Fast
If you were about to graduate from high school or college, you would want to announce your significant achievements to the world. A graduation party celebration is just around the corner and there you'll have to invite the family and friends with graduation party invitation cards.
The party of a lifetime deserves a perfect invite. When ordinary just won't do for your graduation party, it's time to make custom graduation party invitations that set the tone for your big event. Luckily, you don't have to learn any advanced skills to craft a unique invitation card. This guide will walk you through the necessary steps on how to make graduation party invitations with an easy graduation invitation maker. The download is just a click away.
Step 1: Start with a graduation template or from scratch
Launch this graduation invitation maker on Mac, and choose a graduation template from the Greeting Card category on template window to start your creation in an instant. Browse all the professional templates to find the perfect one for your style. All of these graduation templates can be customized with your own graduation party details.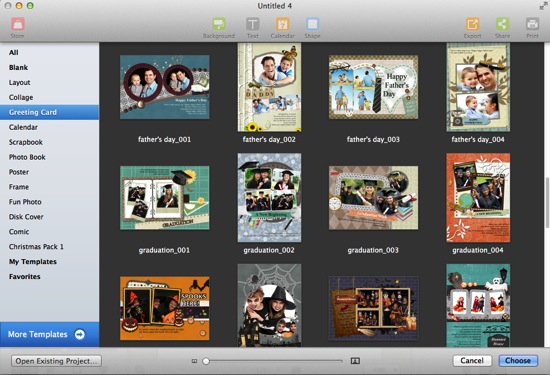 Or you can just click Blank and then choose a blank page to get started if you have a well-thought-out plan in mind. You can find many graduation elements within this graduation invitation maker.
Step 2: Add graduation photos
Celebrate your special once-in-a-lifetime event by adding personal photos to your graduation party invitation with drag & drop feature. Perhaps a photo of yourself in academic dress or another piece of formal wear would be appropriate.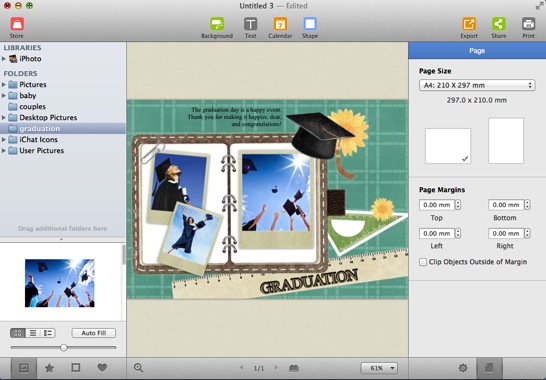 Load your photos from iPhoto or any local folder on left part of window and then you can retouch your photos with border, frame, mask, photo effect and reflection, etc. If you want to add some additional images, you can also choose from our library of rich clipart at will.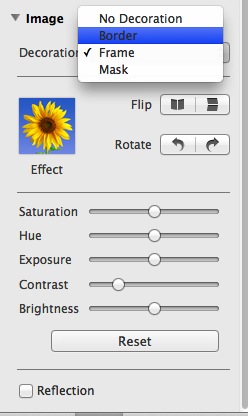 Step 3: Type your own graduation party details
See that you chose a graduation template for a quick start, you are allowed to change the textual information that came with the template and replace it with the information of your own.
To do this, click on the text box and then type over the text with your party details on the right Text panel. Be sure to include your name, the date and place of the graduation, as well as contact information for any questions or RSVPs.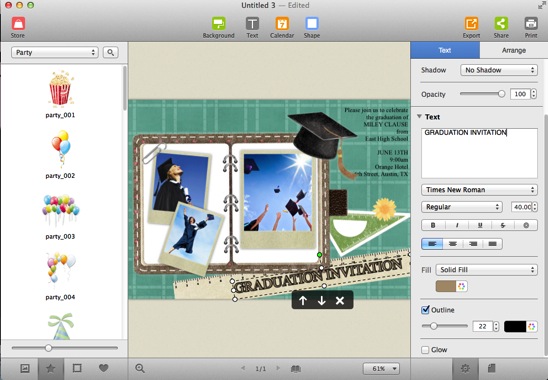 On the Text panel, you can format your text to get an attractive look. Feel free to set text font, size, color, alignment, outline, etc.
Step 4: Print your graduation party invitation out
Once you are happy with the look of your graduation party invitation, you can save as pictures, email to your friends, or just print it out to send to your recipients and everyone would love to attend this party to share the joy and happiness of you.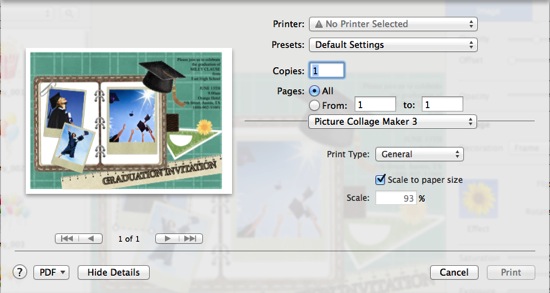 So now that we've got a memorable graduation party invitation. You can forge ahead to free download this powerful graduation invitation maker to make your own following this guide.
Related Articles