How to Make a Special Thank You Card to Speak out Your Gratitude in Unique Way
Thanksgiving is almost here! Want to express your gratitude to people who support you all the time? Give a big thank to your friends appreciating the love and care? And have you already prepared a gift for them? If you think it is hard to pour out your feelings in a straightforward way, why not turn all your appreciation and love into thanksgiving cards, by which you can speak out your feelings and express your gratitude and wishes to those who give you love and care.
Making a Thanksgiving greeting card is in fact the most simple and most easily acquired knack. Anyone who owns a computer and printer at home is competent to create any kinds of cards as desired, what's more, some can even make their own personal printable greeting cards easily with a third-party program! Here Picture Collage Maker Pro is the program that can fulfill all your needs. Don't worry about the matter. The listed guides are sure to give you some ideas that will certainly make your friend or family members feel impressive and memorable.
Step1. Pick a Thanksgiving Card Template
Run Picture Collage Maker Pro and open the template pane in the left window, click the drop-down button and choose greeting card category. Choose the theme of Thanksgiving from the collections and double click to apply the template you chose.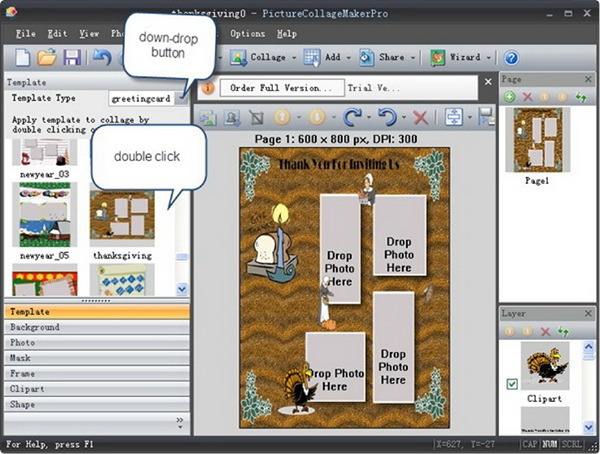 Step2. Grab Photo and Import to Thanksgiving Card
Click photo pane in the left, and then add friend or family photos onto the thanksgiving cards by double clicking or directly dragging. Adjust photos by rotating, zooming, dragging, so that they will be shown perfectly according to your special needs.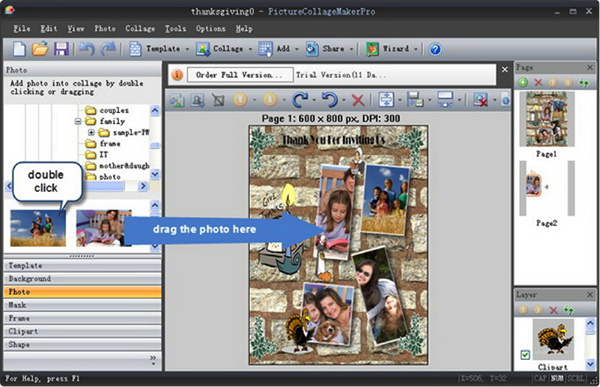 Step3. Optimize Thanksgiving Card
Customize thanksgiving cards with some holiday-relative embellishments. Set a costume background. Decorate your thanksgiving cards with pumpkin, turkey. Add text to make a wish or express your gratitude to the ones you love.
Set Background:
You can use any ways provided to add a background for the Thanksgiving greeting card. Easily change the background with color, image and style pattern by clicking the background pane, and then double clicking the background you chose to apply it.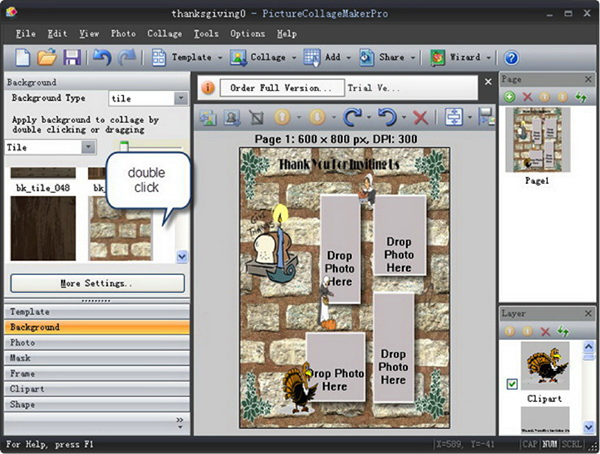 Or click More Settings pane and choose Background Setup, then you can customize you own style background.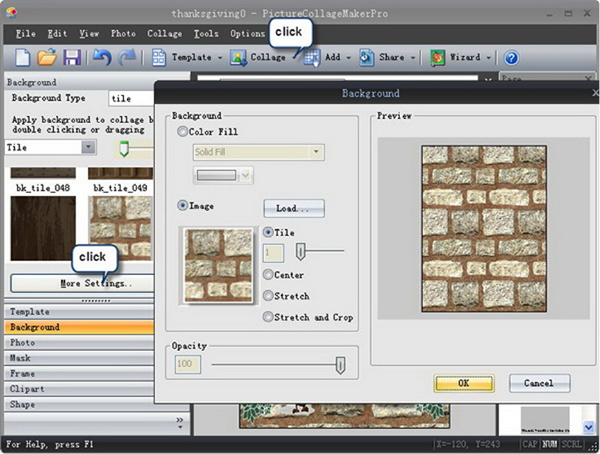 Add Text:
In the Collage menu, click Add Text option and you can add any words you like. Wondering what to write in a Thanksgiving card? Here are some preferences:
"We have much to be thankful for in this family. Our family has been blessed. Happy Thanksgiving."
"I am thankful for good friends like you this Thanksgiving."
Combine them or change them as you need to make them fit you and those you are sending the card.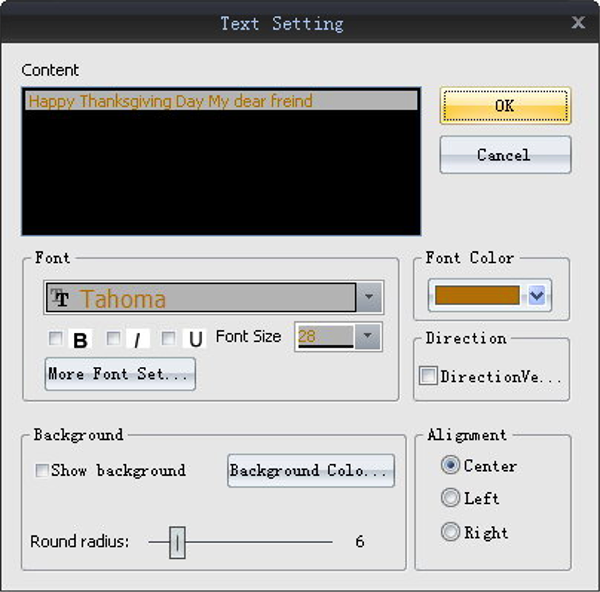 Besides, you can add a frame, apply mask effects, customize border, and more. There is no limitation for making a personalized Thanksgiving greeting card in your way.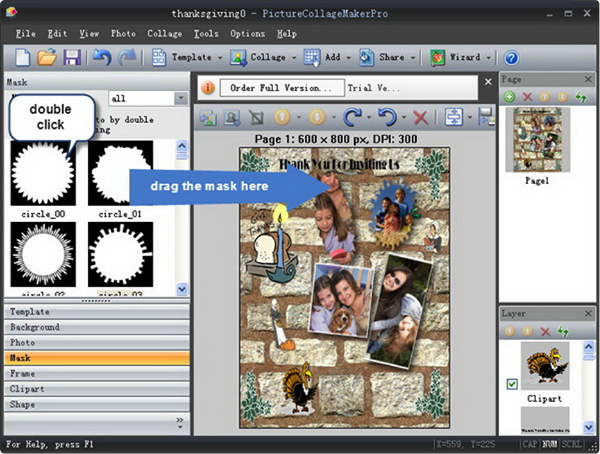 Step4. Print and Send Thanksgiving Card
When you finish, you can save the Thanksgiving photo card as image in JPEG, TIFF and PNG formats. It is a nice choice to print it and send your thanks out before this important day comes.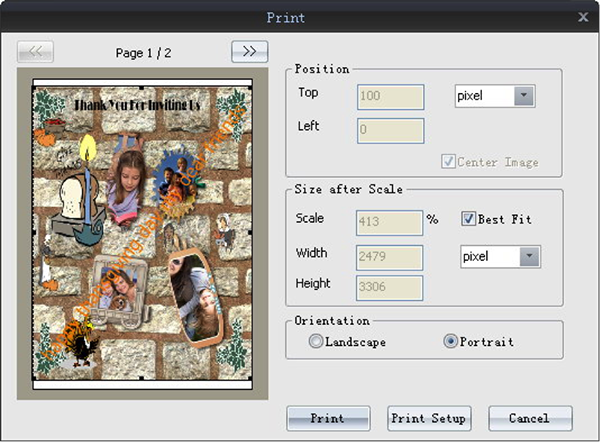 Wish you all have a sweet and happy Thanksgiving Day!
Related Articles