Make Exquisite Congratulations Cards to Celebrate Big Achievements
Life is full of occasions that call for congratulations gifts – like a wedding, a new baby, a job promotion, an anniversary celebration and more. After all, saying congratulations is a wonderful way to express great joy in the success or good fortune and mark a big achievement or any meaningful moment. However, taking the time to pick out a lovely gift in shops is getting to be a real headache. So why not make a friend or loved one proud of his or her efforts by customizing exquisite congratulations cards?
It's a great idea, isn't it? Now use Picture Collage Maker Pro featured with a variety of gorgeous templates and distinctive embellishments to make a printable congratulations card for your friends or family members who received a promotion or landed a new job opportunity. Free download this easy-to-use card maker here and follow the below steps on how to make printable congratulations cards.
Step1. Choose a Congratulation Template
Open Picture Collage Maker and then click Create From Template. Varieties of templates will appear in the popup window and you are free to choose a congratulation template you like best from Greeting Card category. Directly double click your selected template or click Load in the bottom window to start your creation.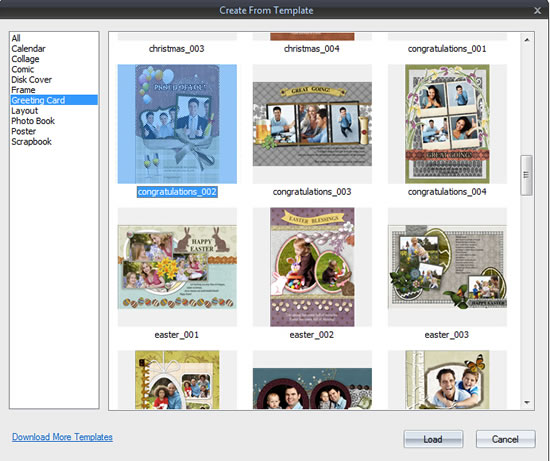 Step2. Add Photos of Your Friends or Family Members
Click Photo button on the left or click Add → Add Photo on the top of window to add photos of your friends or family members who deserve to your recognition. Also, this card maker gives you an access to freely resize or rotate photos to find their best place.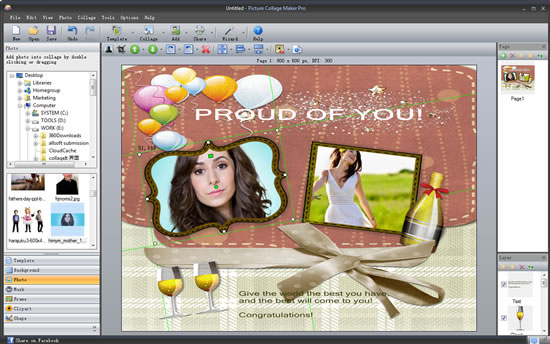 Step3. Type Heartfelt Congrats into Text Box
As for making satisfactory congratulations cards, adding photos and typing congrats are two indispensible contents.
Click Add → Add Text to type your sincere congrats into the popup text box and describe your excitement of their achievements. Freely setting font color, size, type, etc is also available for you.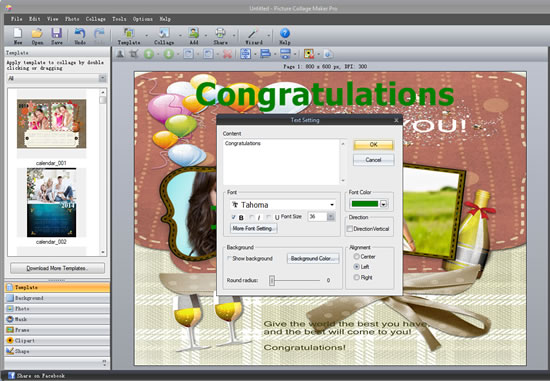 Step4. Add Other Embellishments to Decorate Your Card
Decorating your congratulations cards with delicate embellishments is a good choice for you to make meaningful congratulations gifts. Your recipients will love your beautifully designed card very much, which can lift their spirits and provide motivation to accomplish even greater feats.
Set Background
Click Background button and then double click or simply drag a pattern you like best on the left window to apply. Or you can click More Settings to choose Color Fill or Image as your desired background.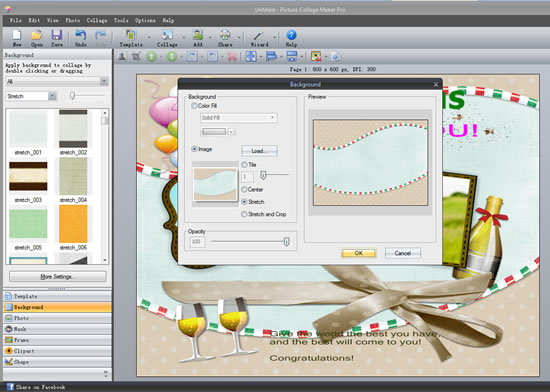 Add Mask
Click Mask button and you will see various masks appear in the left. Next, select one photo to begin to apply your favorite mask by double clicking or simply dragging.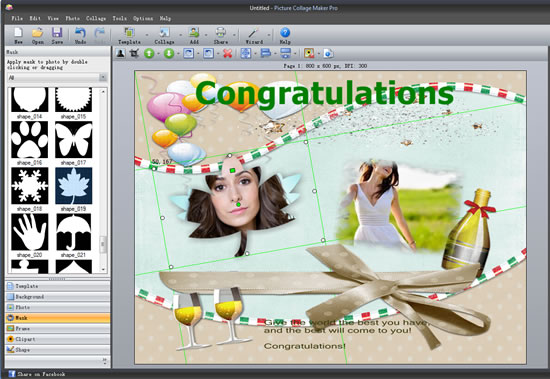 Step5. Print Your Work Out
Are you satisfied with all the settings you've made for you card? If you finish your work perfectly, it's time to print it out. Click File → Print to directly print it out and then send it to your friends. Also, you can click Print Preview to preview the final effect of your card. If necessary, free to make any change to get your last satisfaction.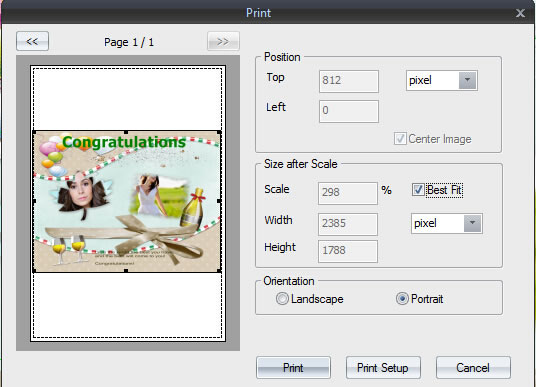 Picture Collage Maker, coming with abundant of pretty templates and embellishments, is a perfect congratulation card maker for you to recognize any great achievement. May you have a nice experience on it and make extremely exquisite congratulations cards for your friends or family members.
Related Articles