How to Make a Gorgeous Valentine Card
Valentine's Day usually calls for chocolate and flowers to that special someone in your life. However, do you ever want to express your affection by making your own valentine gift on this romantic day? If not, there is a handmade valentine card that never loses its charm for your sweetheart.
Picture Collage Maker Pro is an easy-to-use windows collage maker that helps you create valentine cards from ordinary photos in minutes. Below are some brief steps for how to make a special valentine card.
Step1. Choose a Valentine Template
Click Template pane on the left window. Pick a valentine template you like to apply it to collage by double clicking or simply dragging.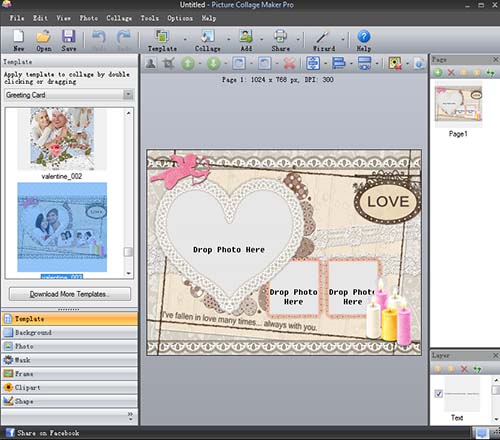 Step2. Add Photos
Open Photo pane on the left to add your best-loved photos from local disk or simply drag and drop photos from the left window to your collage. You can adjust photos by rotating and zooming based on your own needs.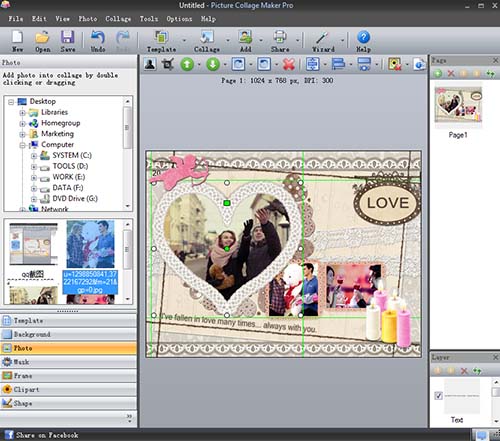 Step3. Add Decorations
You may want to know how to make a more unique valentine card. It just needs you to customize your valentine card with some beautiful embellishments. Free to decorate your card by adding masks and clipart. Add text to make a wish or express your deep feelings to the loved one. Setting an appropriate background is also available for making an instinctive valentine card.
Add Mask
Click Mask pane on the left window. Select a photo in the edit area to apply mask to it by double clicking or dragging.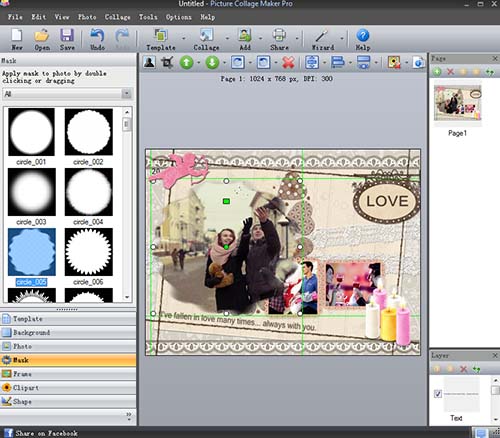 Add Clipart
Click Clipart pane on the left. Pick one you like and apply it to your valentine card to make the card colorful.
Add Text
Click button "Add" →"Add Text" to add your own heartfelt messages into the card. You can change the font properties by setting the font size and color as you want.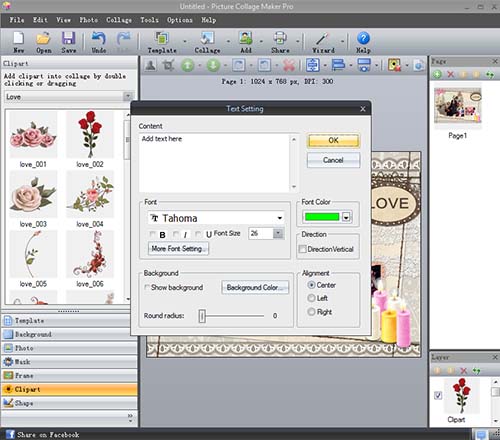 Set an Appropriate Background
Open background pane on the left and choose one loved pattern to apply. You also have other two options in More Settings pane to fill the background with proper color or your own image.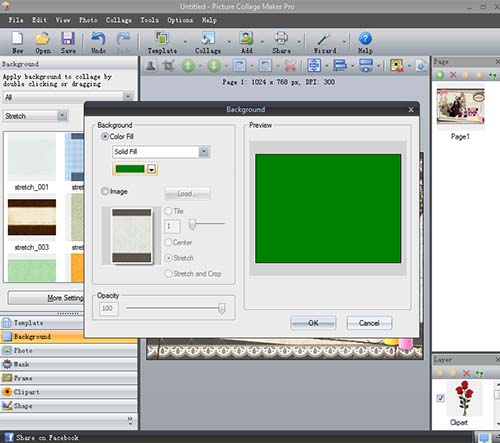 Step4. Save and Print
With the valentine card finished, you can save it as pictures, email or print it out to send to your sweetheart as a special valentine gift. On the top of menu, click File icon and then click Save Collage as Picture and save it as JPEG, BMP, GIF or PNG.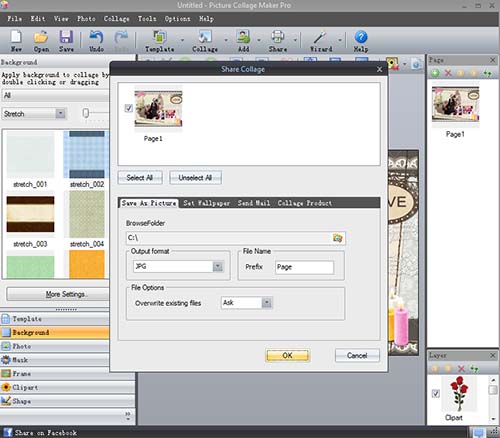 Just 4 simple steps then you can easily learn how to make an impressing valentine card with Picture Collage Maker. What's more, that special homemade gift will be sure to show your loved one how much you care.
Related Articles