Scrapbook Your Favorite Travel Memories Using a Digital Scrapbooking Software
You must have many great times on travel over years. There are so many wonderful memories to remember. You think you'll never forget those special trips, but the reality is a few years down the road, you can barely remember even where you went when see an old photo.
Are you really going to sit back and watch all of those amazing trip memories flit and fly away? If no, creating a travel scrapbook album with photos you took during travel will give you a permanent reminder of your vacation. If you don't consider yourself a good handcrafter, a digital scrapbooking software may be the right option for you. Directly download such one and the included tutorial will teach you how to make travel scrapbook quickly!
1. Use a travel scrapbook template for inspiratione
After launching the digital scrapbooking software, a template window pops up where you can choose your favorite travel scrapbook album for a quick start.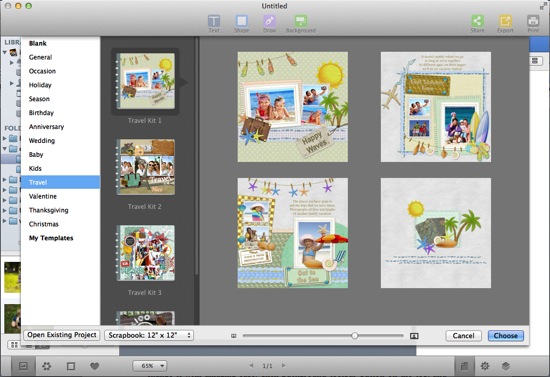 Click Travel category and you will see many perfectly organized travel scrapbook albums. Choose one and you can preview the details of each page on the right side. Double click to open the one you like best.
2. Change background color for your travel scrapbook album
If the background color on the template doesn't fit your style, you are free to change it with amazing ease. Click Background toolbar button on the top, and then you are given three options to change the color of your travel scrapbook album.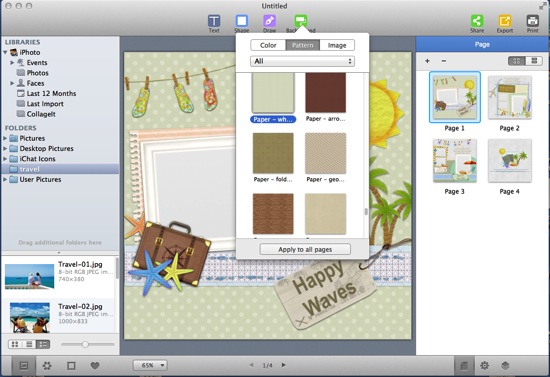 The fist one is to choose Color style, where you can set Solid Color, Gradient Color or Advanced Gradient Color for your travel scrapbook album.
The second one is to choose Pattern style, and then you can apply many preset background paper to define the style of your scrapbook.
The last one is to choose Image style which enables you to load your own image as background.
3. Add travel photos to your scrapbook
You must take plenty of photos during your vacation. You are given easy access to iPhoto, Aperture and Mac Finder within the digital scrapbooking software. If you've stored your travel photos into special folders, you are able to drag and drop any one to photo list on the left.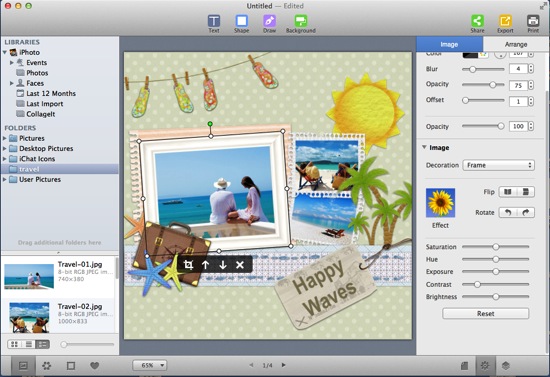 Preview the photos you add on the photo list and freely decide which one to apply onto your travel scrapbook album. Easily drag & drop the photos you like to scrapbook.
4. Write text to describe your travel journey
If you need to add some text to describe the place you went, the people with you, the sceneries you saw or the things you did, you can simply click Text toolbar button to add new text objects and then write your own words.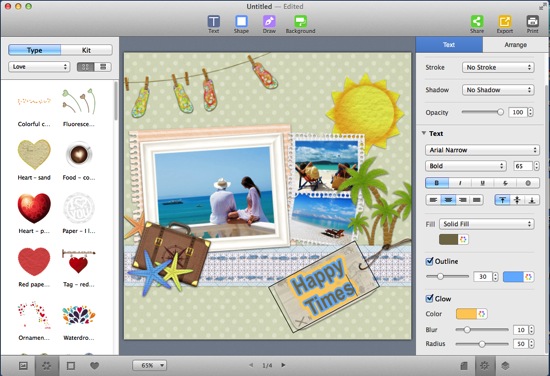 Or you can directly change the text coming with template. Double click the preset text to enter into editing mode and you can type over your own text info.
5. Time to share your travel scrapbook album
Surely, You can also decorate your digital travel scrapbook album with various elements such as clipart images, shapes, calendars and more. Just do whatever you want using this digital scrapbooking software. When everything is done as you think, you can print the scrapbook to make a travel album as a gift for your companion. You can save it to computer as a keepsake. Also, you can share it online with family and friends.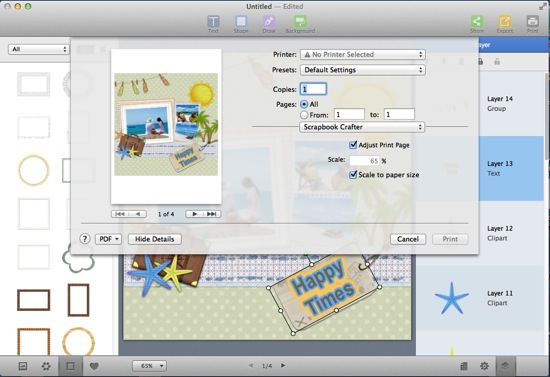 Traveling is a great way to make memories. Scrapbooking your travel is a great way to preserve those memories. Experiment with Scrapbook Crafter will make your whole work easy and fun!
Related Articles