Top Poster Ideas to Make Movie Posters with Rich Impact
A movie poster is an ideal way to make deep impressions on a great many of people at once because it presents the information in a very accessible, informative, intriguing and entertaining way. However, as a casual fan of designing, you may wonder how to make your own movie posters without any mad skills.
Well, don't worry. Here you will find some clever and practical poster ideas to help you make your own movie posters quickly and easily. Want to breathe a little life into your movie posters? No hesitation, take a look at these professionally designed poster templates built in Publisher Plus to get an easy start.
Consider a Movie Poster Theme
Before getting started to make a movie poster, you need to prepare some movie pictures and some related words. We always prepare these materials according to the theme of the movie. If the poster is made for a love story movie, we need some moved sayings. If it is made for a comedy movie, we'd better prepare some funny sentence. If it is made for a horror movie, some scary texts are better to express it. Thinking about the specific type of movie, prepare the specific words and pictures related.
Browse Poster Templates to Choose One
Once you launch the Publisher Plus, you will be able to browse the built in templates in the template window. Go to the Poster category to choose the favorite one from a vast number of gorgeous poster templates.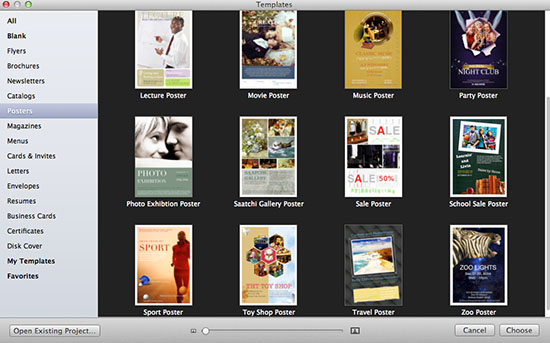 Decide Your Poster Dimension
Most printers accept different print sizes, so you can decide a specific poster size for print. Besides choosing the preconfigured sizes in Publisher Plus, you are able to customize the size yourself. Click the File menu and choose Page Setup… option to customize your poster size that meets your needs. In the popup window, choose Manage Custom Sizes… from Paper Size Combox. In the secondary popup window, click "+" to input your paper size.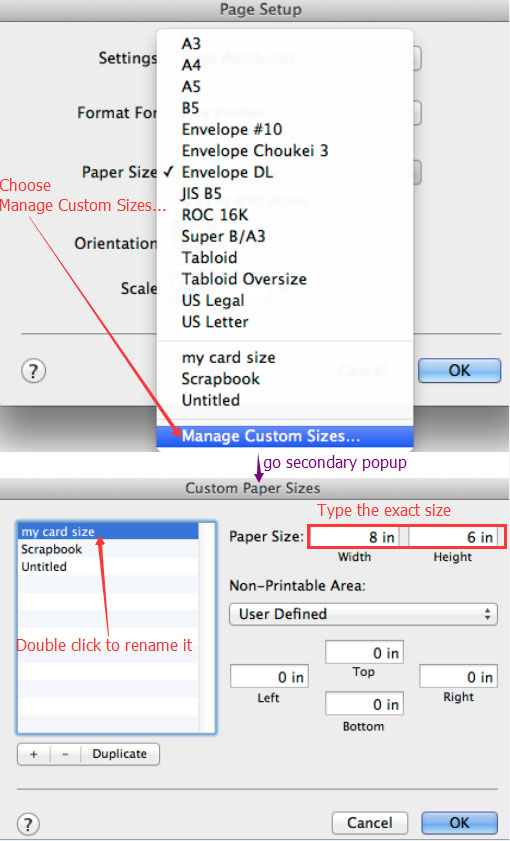 Arrange the Poster Contents
Words and pictures are of importance in a poster. That does not mean a poster should be filled with all the words and pictures. Leaving proper blank space is vitally important as well. Actually, some visual appealing photos and a few words of strong theme will definitely be much meaningful to arouse people's interests.
Just add the movie related photos to the movie poster template. You can add photos from the left photo list or simply by dragging and dropping it onto the poster editing areas. Then, fine tune the photo color or effect with the color adjustment tools and various built in photo effects, like Vintage, B&W, Marcato, Antique, Pop, etc. Apply one that is suitable for the poster. If this is not enough, refine your movie photo using the features of Saturation, Hue, Exposure, Contrast and Brightness. Before deciding the final effect, you have to try and error in many mix effects until the result will satisfy you.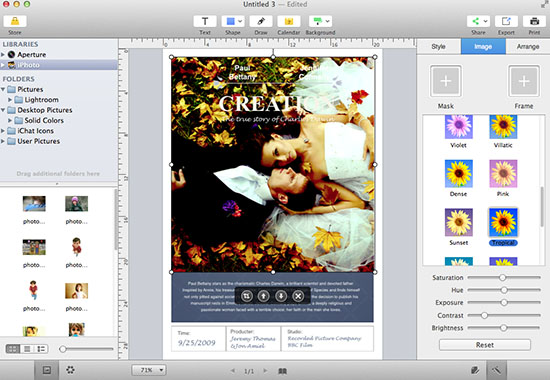 When it comes to text arrangement, click Text button at the top of the program. Copy and paste your prepared texts into the text object and make adjustment of their style and formatting. Click Style panel under the Text tab to edit the text font, color, size, alignment and the text margin. You can quickly add bullets or numbered lists to existing lines of text with Publisher Plus for Mac.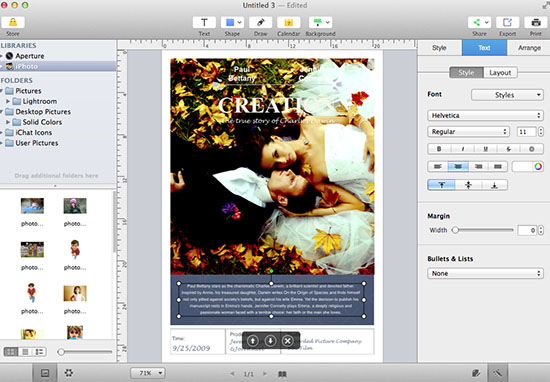 If you get many words which you want to type them in to multiple columns, just select the text object and go Layout panel under the Text tab. Here double click on the specific column to set the column width and the width between columns. If you want to make the columns at the same width, check the checkbox beside "Equal column width". In addition, you are free to set the spacing between the characters and the paragraphs.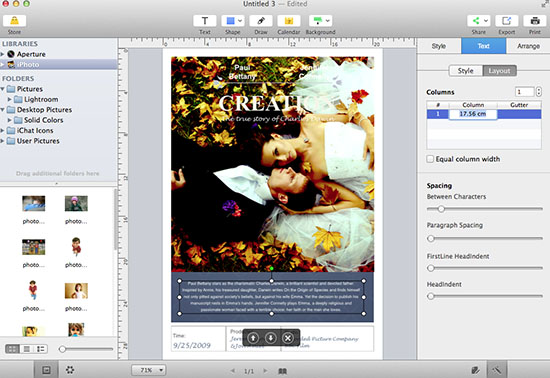 You have more options to change the text appearance to its perfect result. Just try it to explore them out.
Print Your Movie Poster
Once the movie poster is satisfying, simply click Print button at the top right of the window to print it out instantly. In the popup window, you can set the print Copies and print Type before printing the poster out.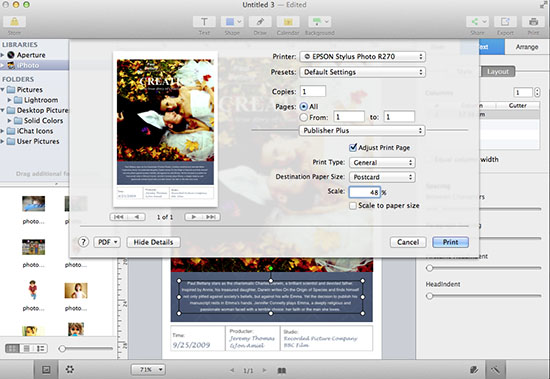 Have some panorama poster ideas in mind? Gather all the graphics and information to make your movie posters for print. Have no idea? It does not matter. Check out the best designer Publisher Plus to stimulate your inspiration from the marvelous poster templates.
Related Articles