Make Digital Family Scrapbooks to Keep Your Family Memories Forever
Needless to say, you must have many or at least several family photos with great memories of trips, holidays, parties or other special moments on your computer. Instead of gathering the whole family around your computer to click and look at the photos one by one, consider making a digital family scrapbook that will help keep your family's best memories bright through the years!
You may wonder how to make family scrapbook if you have never tried it before. The good thing is that there are many digital scrapbooking software now available for you. You just need to pick one to use. If you don't want to spend your valuable time designing an eye-pleasing layout from scratch, Scrapbook Crafters is for you because it's already done this for you with various gorgeous scrapbook templates. Just download to have a try!
Step1: Pick a family scrapbook template
This digital scrapbooking software offers a wide variety of pre-made scrapbook templates based on event categories such as baby, wedding, travel and so on. To make a digital family scrapbook, just choose the category of Occasion, and find the family scrapbook templates.
Choose one to preview each page and then double click or click Choose button to open your desired template.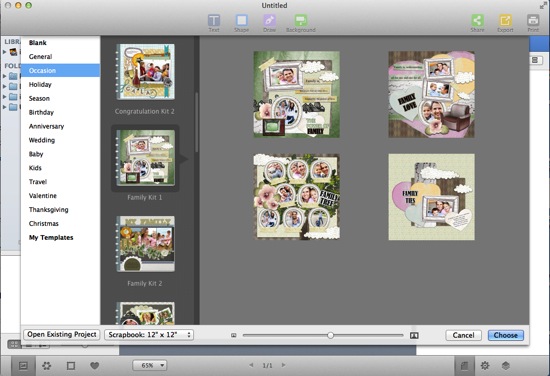 Step2: Add your family photos to use
Access photos from iPhoto, Aperture, and Mac Finder on the left side and then drag the photos you want to use to your digital family scrapbook.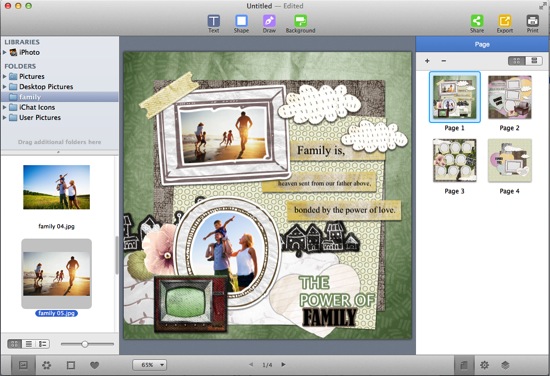 You can adjust the size of a photo by dragging it and you can crop a photo by double clicking and moving. Click on a photo and you will be able to enhance it with frames, masks, borders, effects, etc. on Image panel.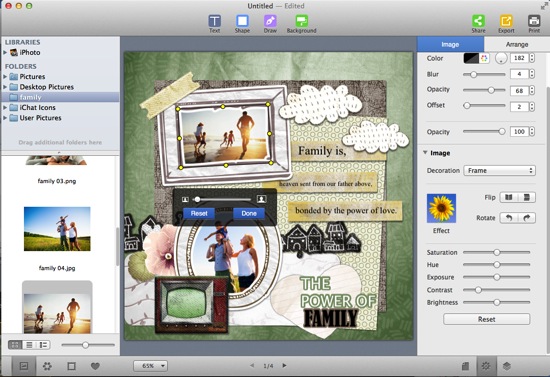 Step3: Edit text on your digital family scrapbook
You may want to add some titles or your own descriptions for your photos. Just click Text toolbar button on the top to add a new text object to your digital family scrapbook or you can simply double click on the preset text coming with template and then type your own words. After that, you can adjust the text font, size, color, alignment and other properties on Text panel.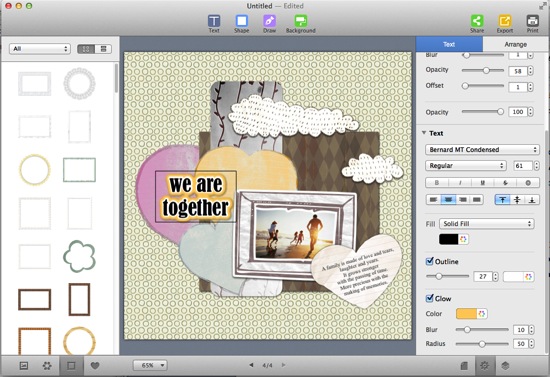 Step4: Manage other edits for your scrapbook if necessary
If you want to enrich your scrapbook further. Scrapbook Crafter offers many other supplies such as clipart images, background papers, calendars and more. Anyone who wants to make his/her digital family scrapbook more creative can go to experiment with this digital scrapbooking software.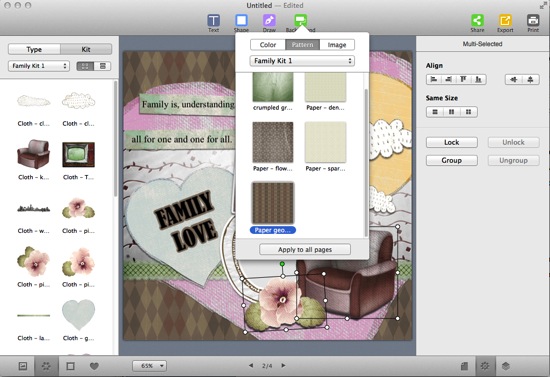 Step5: Share your digital family scrapbook
Click Share button to send your scrapbook by e-mail or post it to other social networks like Facebook, Twitter, Flickr, Message, and AirDrop. Also, you can directly click Print button to print it with your home printer for sending to friends and family. One more choice is that you can back up your scrapbook on your computer as an image file.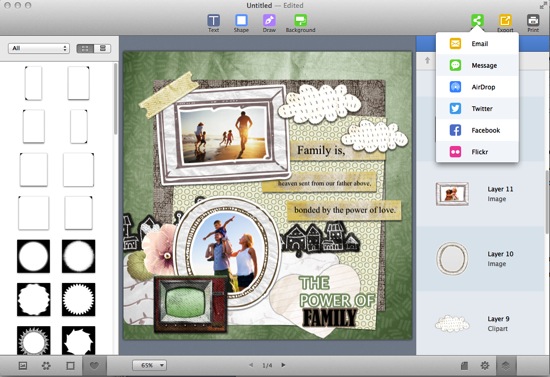 After learning this 'how to make family scrapbook' guide, are you ready to transform your precious family photos into a digital family scrapbook with this digital scrapbooking software? Just download it and start to make your own now!
Related Articles