Get Great Anniversary Gift Ideas to Make a Meaningful Anniversary Scrapbook
Whether you are planning a 50th anniversary for your parents, enjoying a romantic first anniversary with your honey, celebrating a 25th with friends or a 10th anniversary with your young family, creating a personalized anniversary scrapbook as a gift is a good way to show your love to them. Your family members or friends will love your anniversary gift very much when they receive your amazing anniversary scrapbook.
Wondering where to get great anniversary gift ideas? Want to know how to make a meaningful anniversary scrapbook? Well, you have certainly come to the right place. Scrapbook Crafter introduced in this article is a simple and powerful digital scrapbooking software that will make your dream come true. Download it now and follow the guide to make your personalized anniversary scrapbook.
Step1. Pick an Anniversary Scrapbook Kit to Start Your Design
Launch this digital scrapbooking software and then abundant of beautifully designed scrapbook kits for various occasions appear in the popup window. Choose Anniversary category and then click your favorite anniversary scrapbook kit to first preview every page on the right side. Next get started on designing your artwork by double clicking the desired template or by clicking the Choose button.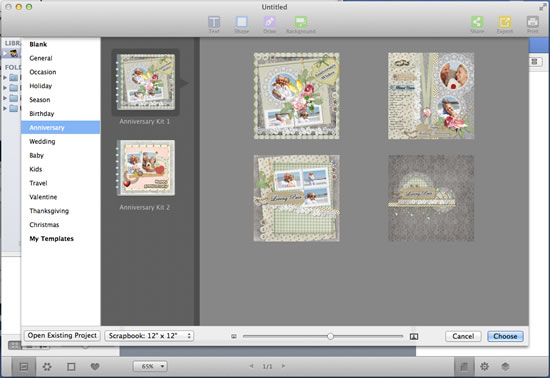 Step2. Set a Background to Decorate Your Anniversary Scrapbook
You are allowed to freely change the preset background color to make an eye-catching scrapbook. Click Background toolbar button on the top of window to choose Color, Pattern or Image as your final background.
In Color list, you can fill the background with specified color like Solid Color, Gradient Color or Advanced Gradient Color.
In Pattern list, you are free to choose any preset pattern you like best as your desired background.
In Image list, freely loading your own images as background is available for you.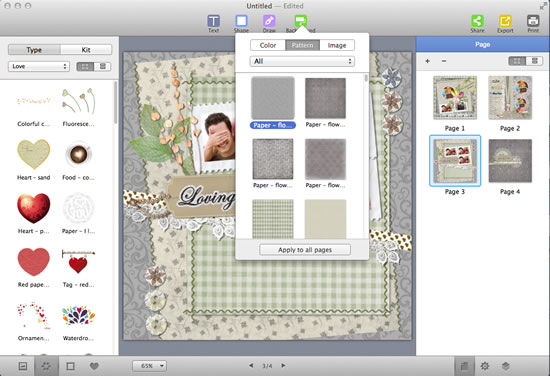 Step3. Add Memorable Photos into Anniversary Scrapbook
Adding some memorable photos into the edit area is an indispensable content for making an attractive scrapbook. You can freely add any photo of your friends or family members from iPhoto in Libraries category or Pictures in Folders category.
After you've added all your photos, you are free to zoom and rotate, flip and mirror them to find their best places. Also, on the right Style panel, you can apply Shadow and set Color, Blur, Opacity and Offset at will. To make your photos looks more beautiful, you can retouch them with photo effects, frames and masks on the right Image panel.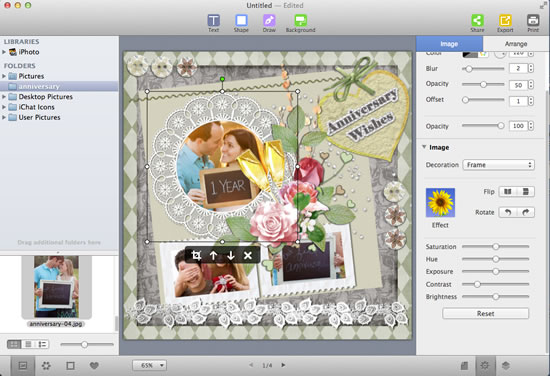 Step4. Type the Message You Most Want to Say into Scrapbook
As important as adding photos, adding text you most want to say to your loved ones into your anniversary scrapbook is a wonderful way to show your deep feelings.
Click Text toolbar button on the top of window to type your sincere message into the popup text box. Free to set font color, size, alignment and more on the right Text panel to highlight your text.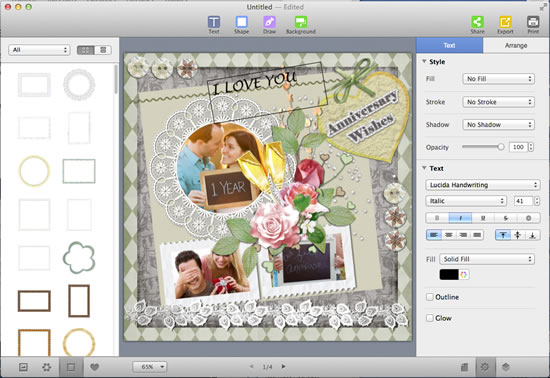 Step5. Print Your Anniversary Scrapbook Out
If your anniversary scrapbook has been perfectly finished, you can directly print it out by clicking Print on the top of window and then sent it to your friends or family members as an amazing anniversary gift.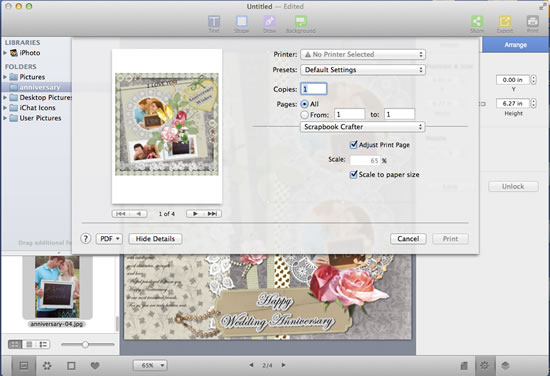 If you still have no anniversary gift ideas to celebrate the special moments in your life, download this powerful digital scrapbooking software and then create your own anniversary scrapbook by following the steps provided above. May you have a wonderful experience on it!
Related Articles