Get Free Certificate Templates to Create a Professional Certificate
Creating a certificate is a great and virtually inexpensive gift to reward the most excellent student of the month, the most outstanding employee of the year and more. No matter what age we are, we all love being recognized with an award certificate to bring attention to our great accomplishments. As a teacher or business owner or any other leader, don't you want to make a personalized certificate to recognize the efforts and achievements of your students, employees or anyone works in a team environment?
Your answer may be absolutely yes. But the problem comes that you must find a powerful certificate maker to design your creation. No need to worry about it. Publisher Plus mentioned in this article will be a top pick for you. It provides you abundant of free certificate templates that help you get inspiration on making a professional certificate. Now free download it here and read the following guide on how to create a certificate.
Step1. Choose a Certificate Template to Get Started
Launch this certificate maker on Mac and choose a certificate template from various free certificate templates provided in the Certificates category to start your creation. Whether you're looking for an award certificate you can easily fill in or a graduation certificate for students, you can find an ultimate solution in Publisher Plus. Here I choose a student certificate template to get started.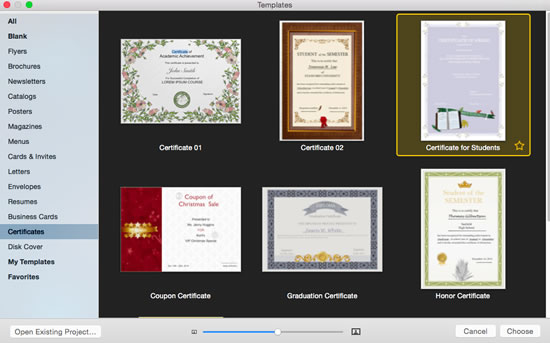 Step2. Set a Proper Page Size
To make a professional and good-looking certificate, there is a great need for you to choose a proper page size and margin properties. Click

in the bottom-right corner to set Page Size and input appropriate Top, Bottom, Left and Right Page Margins.

Step3. Type Certificate Details and Make Corresponding Text Settings
What the most important thing to make a professional certificate is that you must add some necessary certificate details. Here you can directly double click the existing text box and then replace the original textual information with your own message.
Be sure to add all important and correct details, such as the certificate is presented to the right person's name, for his or her achievement or outstanding performance, awarded date, signed name, etc.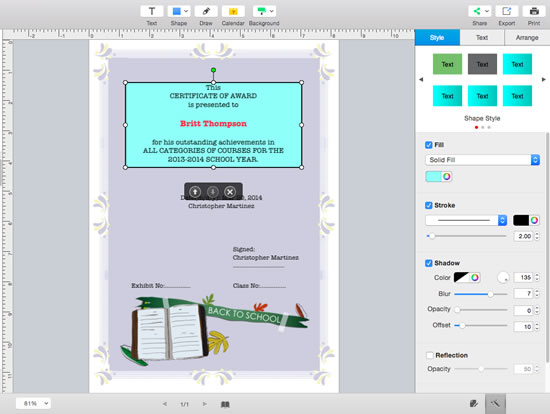 Need to highlight the certificate title, person's name or any other important information? In this certificate maker, you can freely customize text settings to get your last satisfaction. Click Text in the left and then free to set text font, size, color, etc.

Step4. Print Certificate Out
If your certificate is done in a perfect and satisfactory way, you can directly click Print to print it out and give it to the right person you want to recognize his or her achievements.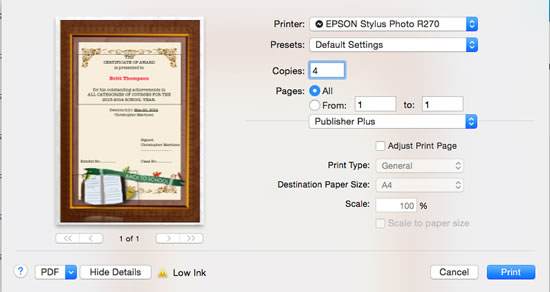 With these professionally designed free certificate templates in Publisher Plus, you can easily find great inspiration on making an attractive certificate. Your students, employees or any other team workers will be extremely happy to receive your personalized award certificate and they will work harder in the future to get greater achievements.
Related Articles