Make an Engaging Travel Brochure to Add Value to Business
The travel & tourism industry is high in demand, even with today's somewhat shaky economy. As for travel companies, making an engaging travel brochure is a top way to broaden audiences and add value to business. After all, a traveler's decision depends very much on how the information is creatively displayed in travel brochure. In short, having professional travel brochure on hand will entice new customers and remind prior customers that your company is the best one to call for vacation planning or to contact when they need to a resort to stay at on their trip.
To efficiently promote your travel business, start making an attractive travel brochure now. Today this article will introduce to you an easy-to-use Publisher Plus featured with professional travel brochure templates that will ignite the holidaying spirit in customers. Download this powerful brochure maker here and read the following simple steps on how to make a travel brochure.
Step1. Choose a Travel Brochure Template to Get Design Inspiration
Launch Publisher Plus and then choose your favorite travel brochure template from the Brochure category. These beautiful templates provided in this brochure maker can be adapted to any subject related to tourism or vacation.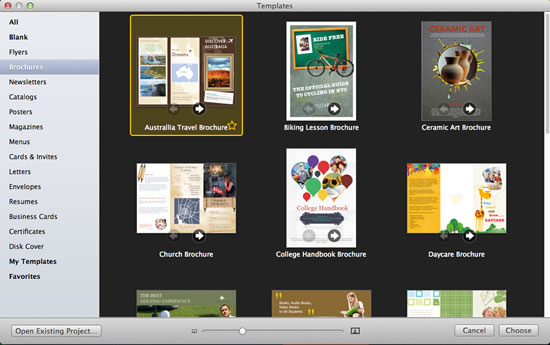 Step2. Set a Beautiful Background for Your Brochure
Applying a beautiful background for your brochure is one of the best ways to attract your customers. Click Background button on the top to choose Color, Pattern or Image as your desired background.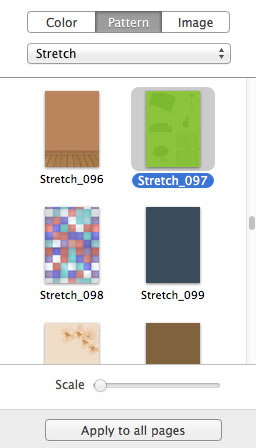 Step3. Add Any Necessary Content into Your Travel Brochure
Whether you are a travel agent, hotelier or tour guide, your brochure design is often the first point of contact between you and the consumer. So, be sure to add some necessary contents like photos and text into your brochure to clearly display any important information.
Add Photos
Adding some stunning pictures of travel destination is a good way to capture your consumers' attention. Click once on a preset photo you want to change and then drag and drop your own photos from iPhoto or Pictures onto it.
You can decorate your photos by clicking Image to set Saturation, Hue, Exposure and any other photo effects at will.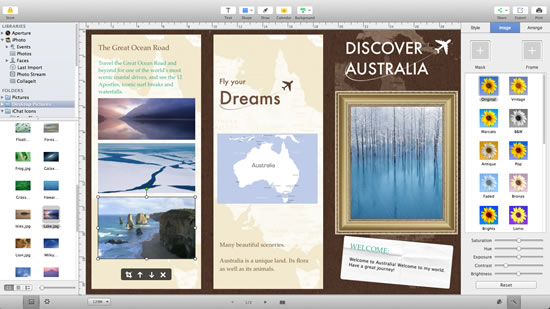 In addition, you are free to click

to choose some travel related clipart as your ultimate photos like Travel & Leisure clipart.

Add Text
Click Text button on the top to type your own message into the edit area. Free to set font color, size, style and more in the right window to make your text easily noticeable.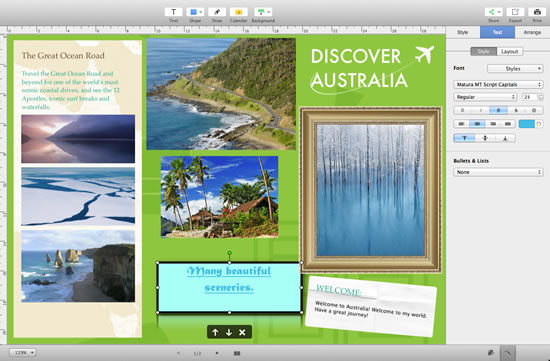 You should be as clear as possible to provide customers with all the necessary information. Keep your information relevant, concise, straightforward, and don't confuse your readers.
Step4. Share or Print Your Work Out
Once your brochure is perfectly finished, you can click Print to directly print it out and sent to consumers. Furthermore, this powerful brochure maker also allows you to save it as image files on your Mac for future use or share it via Email, Facebook, etc.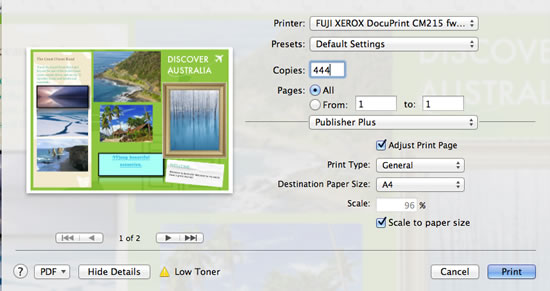 Since lots of consumers are still heading out of town and out of the country on trips, a beautiful and professional travel brochure is useful and helpful for them to find the best destination. Do not hesitate to try this simple brochure maker to promote your business. Under the assistance of these exquisite travel brochure templates, it is pretty easy for you to find great design inspiration.
Related Articles