Make a Baby Scrapbook Album to Memorize Every Moment of Baby Growing
I'm betting that lots and lots of photos you've taken when your baby was born and growing up. Do you want to do something special with the sheer number of your baby's sweet photos instead of letting them fade away with time passing by? Well a digital baby scrapbook album would be your best choice!
A lot of moms are not sure how to make a baby scrapbook album. Thanks to the developments in technology, now it's fairly easy to make one using any digital scrapbooking software. If you're just thinking about starting a digital scrapbook to record all the significant moments of your baby's growing years, you should consider downloading Scrapbook Crafter, a super easy & quick digital scrapbooking software on Mac. This page will walk you through 6 steps for your first digital baby scrapbook album.
Step1: Launch this software and pick a baby scrapbook template
Open the digital scrapbooking software on you Mac and you can see many perfectly designed scrapbook templates for various occasions. For the purpose of making a digital baby scrapbook album, click Baby category on the template window, and then double click to choose the baby scrapbook template you want to use. There is a preview window on the right to make it easier for you to decide which one to choose.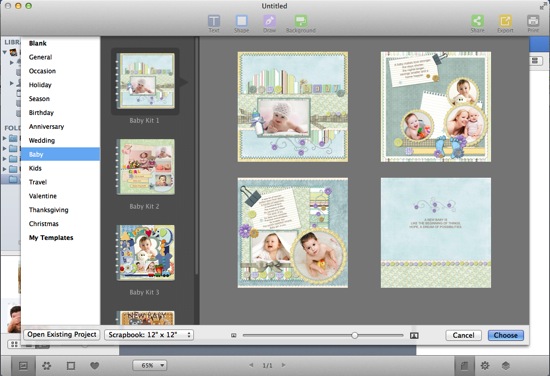 Step2: Organize the pages of your baby scrapbook album
Once opening the baby scrapbook template, you can see there are several pages available. If you need additional pages for recording your baby, you are free to add more.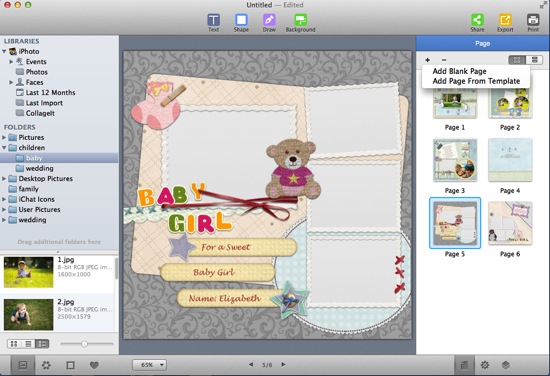 On the right Page panel, click "+" button to add a page from other templates or to add a blank page. You can also remove any page that you don't like by selecting a page, and simply clicking "-" button. You are given the ability to organize the order of pages by directly dragging and dropping.
Step3: Add baby photos into the scrapbook template
To choose photos, you are allowed to access your iPhoto, Aperture and Finder on the left. If you already saved your baby's photos in a specific folder, simply drag and drop it onto the photo list.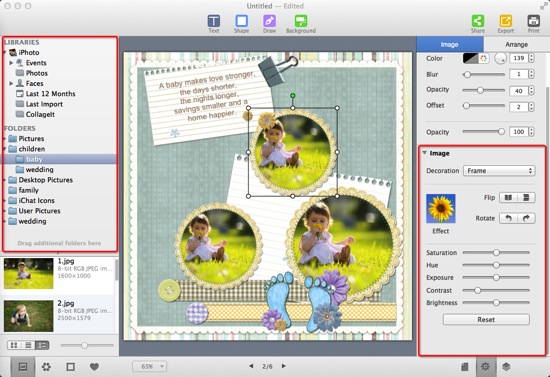 You can view the thumbnails of photos. Simply drag any photo from left to the selected template. Each photo can be adjusted to your desired size, rotation and position. Every photo can also be retouched with photo effects, frames, masks, and borders on Image panel.
Step4: Personalize text for your baby scrapbook album
For adding new text for your baby scrapbook album, just click Text toolbar button on the top, and a text box will appear where you can enter whatever text you wish. Or, to just change the text in the pre-designed text box, double click on it and then type over your own words.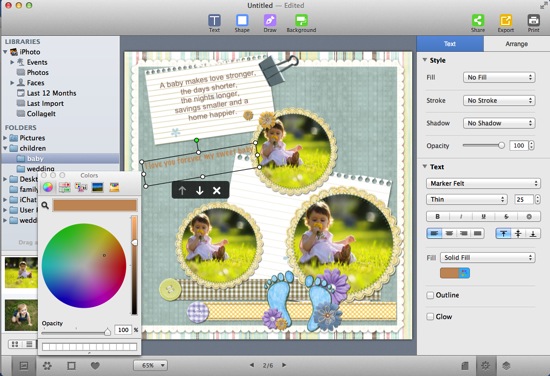 To make your text more amazing, you have options to customize its font, color, size, alignment, outline, glow and more on Text panel.
Step5: Add additional embellishments for your baby scrapbook album
Just like a traditional scrapbook, you can also decorate your scrapbook further with embellishments. This digital scrapbooking software enables you to do more for your baby scrapbook album.
Click

to add additional clipart images such as bows, flowers, and ribbons to enrich your scrapbook design.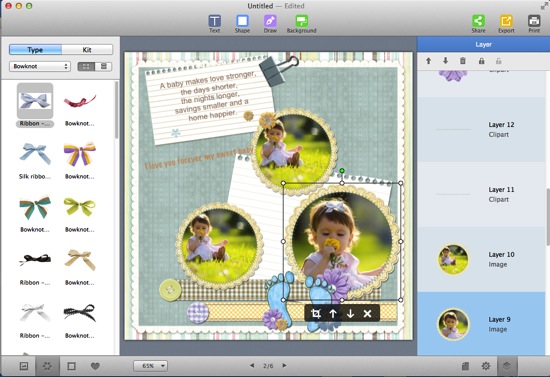 You can also apply beautiful pattern background to make your design shining. Click Background button and then choose Pattern style, here you can apply beautiful paper to decorate your scrapbook.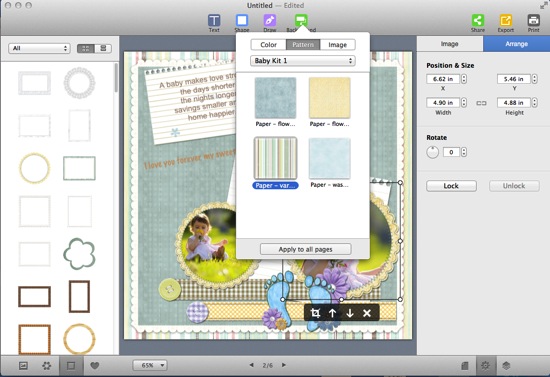 Step6: Save your baby scrapbook album
Once you have placed all the photos and extras you want on each of the pages in your baby scrapbook album, it's time to save your great design. You can also share your digital baby scrapbook album through social media networks, or directly print it out for a keepsake.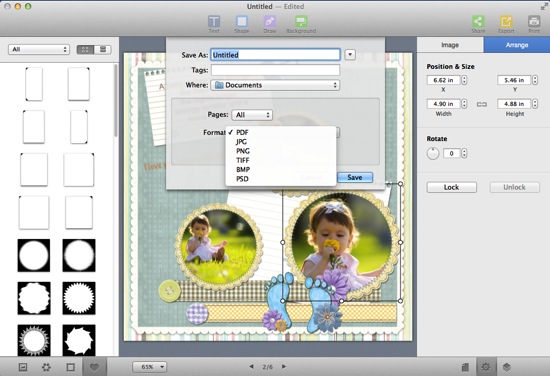 After completing this tutorial you will be a pro at making digital baby scrapbook album! Just download this digital scrapbooking software here and see for yourself how quickly you can turn your photos into a beautiful memory album!
Related Articles