Make a Thoughtful and Meaningful Mother's Day Gift
Mother's Day is just around the corner. For that special day, you must want to honor your mom who bathed and fed you until you could do it yourself and give her a unique mother's day gift that shows how much you love and appreciate her. But, haven't found the best mother's day gift yet? Making a present that's thoughtful and meaningful is more important than spending a lot of money in any shop. A pretty card with a note that shows her you've noticed great things she's done for you this year, or in the past, is always a nice touch.
If you want to thank your mom but can't seem to find a powerful card maker, Greeting Card Builder is a helpful tool that enables you to find inspiration on creating a wonderful card as your mother's day gift. Free download this easy maker and follow these simple steps to finish your card design.
Step1. Choose a Mother's Day Template
Launch this powerful card design maker and then click Create From Template. You are free to choose your favorite Mother's Day template from a variety of delicate templates appear in the popup window. Next click Load button to start making your unique card.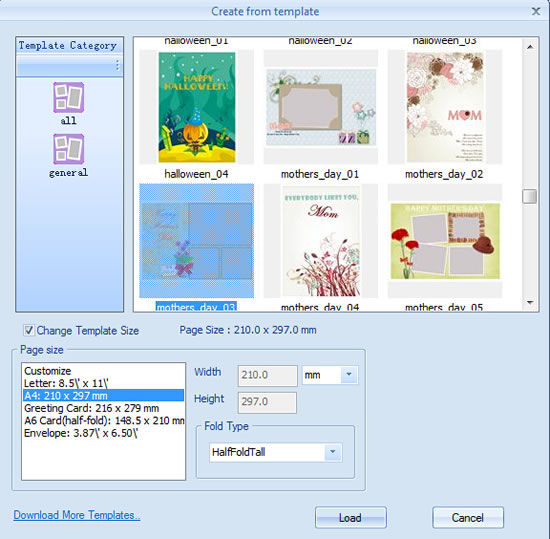 Step2. Add Photos to Record Memories
Adding beautiful photos of your mother onto your card is an effective way to record the sweet life memories. Click Add Pieces → Add Photo button on top of window to add your mother's photos from local disk to the edit area. Free to add photos into Front, Inside1, Inside2 and Back page. Also, you can resize all photos to find their best position by dragging your mouse.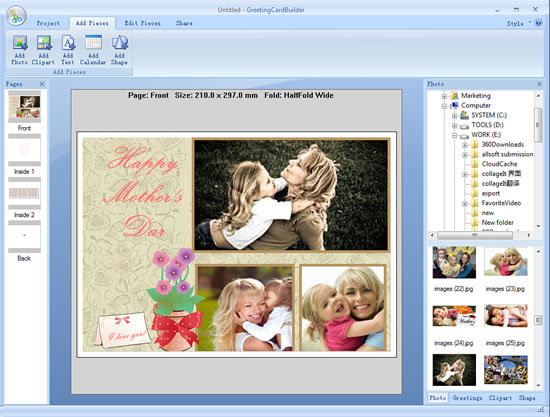 Step3. Express Your Heartfelt Love to Your Mom
Want to say to your mother that you love her very much? Click Add Pieces → Add Text button to type any word you most want to say and express your heartfelt love to her. You are free to set font size and color based on your own needs. If necessary, you can click More Font Setting button to set font style and any other effects at will.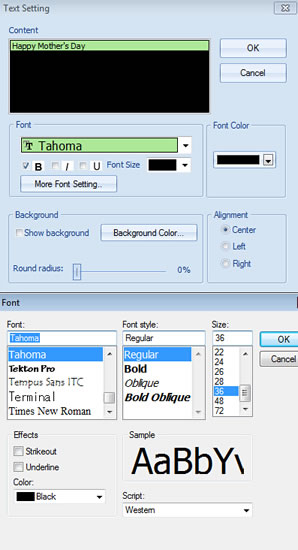 Step4. Add Frame to Decorate Your Card
Click Edit Pieces button on top of window and then you will see abundant frames appear in Picture Frame and Color Frame on the right window. Next select a photo to apply your favorite Frame by directly double clicking or simply dragging.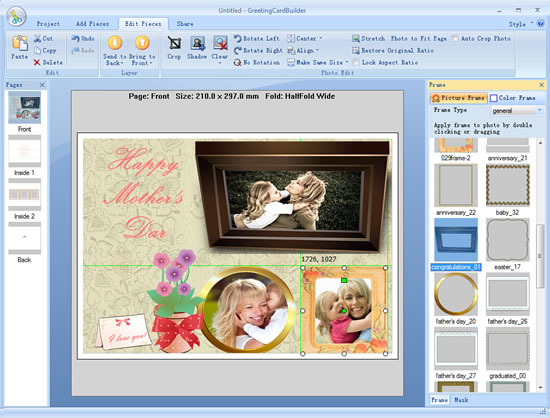 Step5. Print Mother's Day Card Out
Once you've finished your mother's day card, you can click Share → Print button on top of window to print it out directly and then give this meaningful mother's day gift to your great mom. You can click Print Preview button to preview your work first and then print it out if you get your last satisfaction.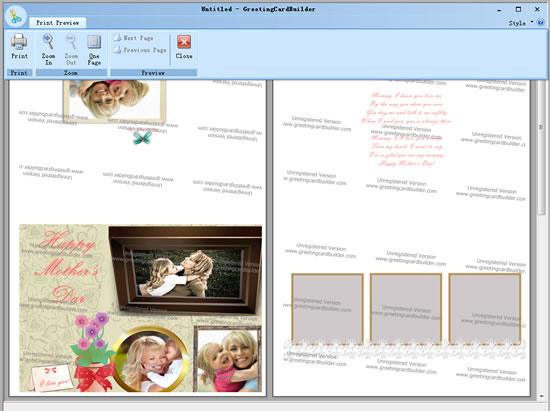 May you finish your unique Mother's Day gift in a perfect way with this easy and quick card maker! It's the best Mother's Day gift in your mom's eyes. Why not do it now?
Related Articles