How to Make Creative Birthday Party Invitation Card
Everyone deserves an unforgettable celebration for his or her birthday. You may ever want to let go of the ordinary and make creative birthday party invitations to heighten the excitement of the special day. Why not create a personalized photo invitation to attract all your guests' attention and make your party a lasting memory?
You do not need to browse on Internet to find great birthday party invitation maker. Picture Collage Maker Pro is the one never let you down. The following steps will show you how to make a creative birthday invitation by using this simple yet powerful invitation maker.
Step1. Choose Template
Click Template pane on the left and then choose one of your favorite birthday templates by double clicking or simply dragging.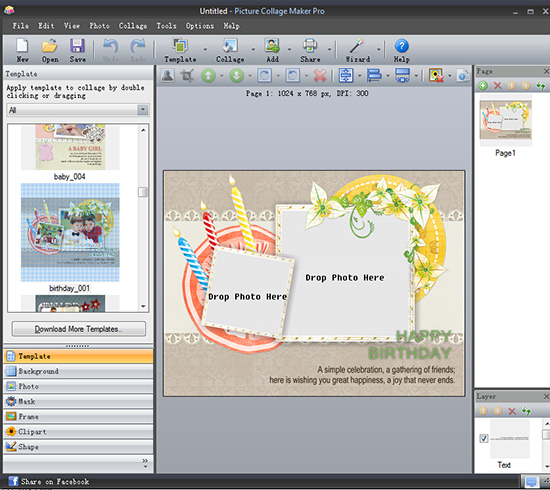 Step2. Add Photos
Click Photo pane on left to get photos from your local disk. Add some beautiful photos of your friends and you to the edit area. Free to move, resize and rotate them by moving the mouse to find the best place.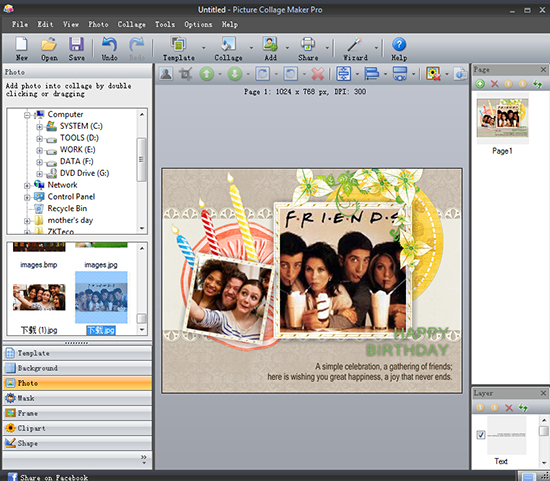 Step3. Add Text
Click Add →Add Text on top of window to type the details about your birthday party invitation. Be sure to include the date, time, location of the party or any other useful info you'd like to add. You can change font properties such as font size, color, style, etc. to make an eye-catching invitation.
Step4. Add Decorations
Use beautiful background, theme-related clipart etc. to decorate your photo invitation card.
Set Background
Open Background pane and choose your loved pattern to directly apply by double clicking or simply dragging. Also, you can click More Settings pane to set color fill or image as your background according to your own preference.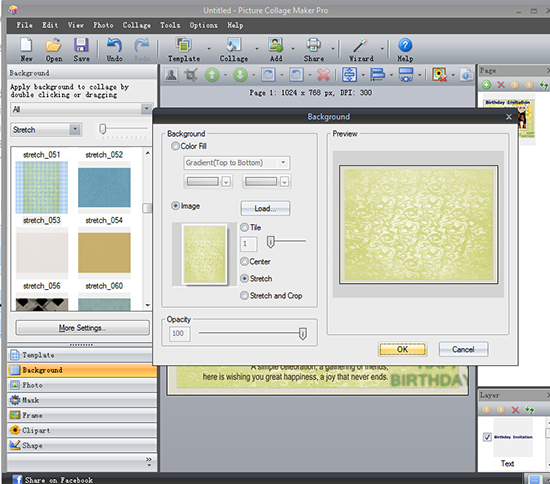 Add Clipart
Click Clipart pane on left and choose one party type clipart you like best to apply. Free to resize and rotate to get the best effect.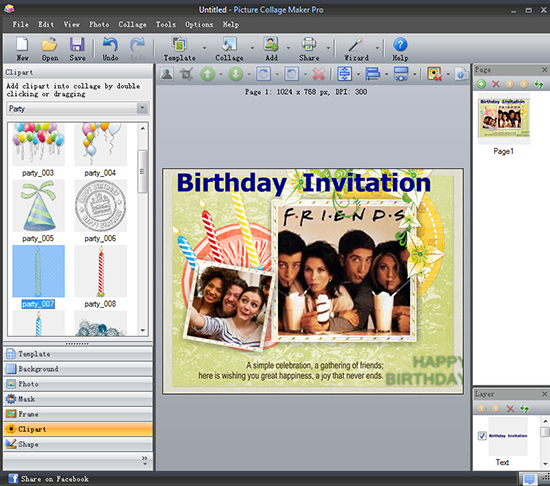 Step5. Save and Print
With the birthday invitation card finished, you can save it as pictures and print it out to send to your close friends who will attend this party. Click File →Print pane on top of window to print it out. You can preview your card first, if necessary, resize or adjust its position, size or orientation to get your last satisfaction.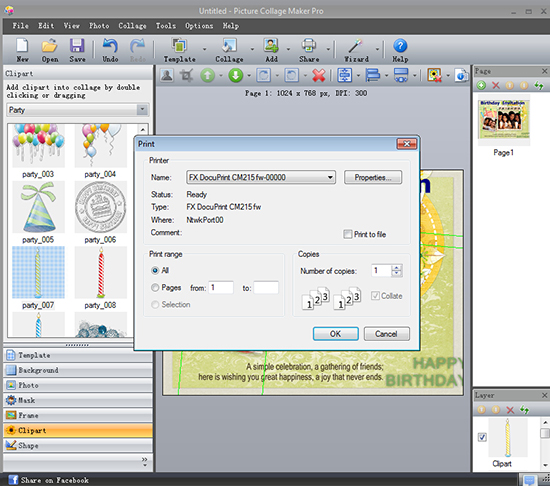 This powerful invitation card maker can easily teach you how to make creative birthday party invitation card. It will help you throw an impressive birthday party and keep the time of the year in mind.
Related Articles