Get Your Audiences Noticed with Eye-catching Flyers
With more and more media competing for eyeballs than ever before, it's a real challenge to grab people's attention these days. As we all know, flyers are essential advertising tools to promote any product or event effectively. So, making a flyer design is absolutely the best way to attract the attention of a target group. Whether you're creating a flyer for a product sale, a lost pet, a photo exhibition or any other business advertising, the key to making your flyer serve its purpose is to design it in such a way that makes it stand out.
But time is tight and you may just do not have hours to spare to work up a wholly original design. Here Publisher Plus can help you create a flyer without spending much time. It is an easy and quick flyer creator and a must tool for you to make an eye-catching and amazing flyer that your audiences really want to read. Just free download it now and get the following steps on how to design a high-quality flyer with various free flyer templates.
Step1. Choose a Flyer Template to Get Design Inspiration
Publisher Plus has a fantastic selection of professionally designed templates for you to choose from. Launch this flyer creator and then choose your desired template that is related to your flyer design from these abundant of free flyer templates. Here I have chose Photo Exhibition Flyer template. Next double click it to start customizing an attractive flyer.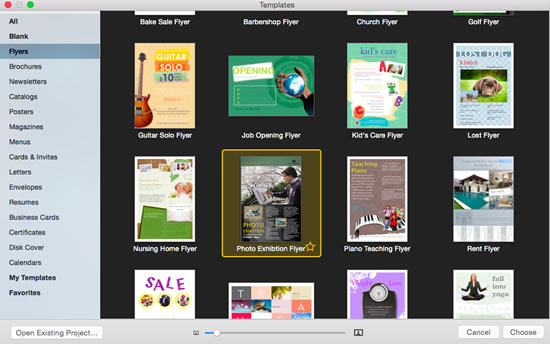 Step2. Replace Preset Pictures with Your Own Photos
Each template includes many preset pictures and you may want to replace them with any other photos. Click once on a photo you want to change and then drag your own photo from iPhoto in Libraries category or Pictures in Folders category onto the existing pictures.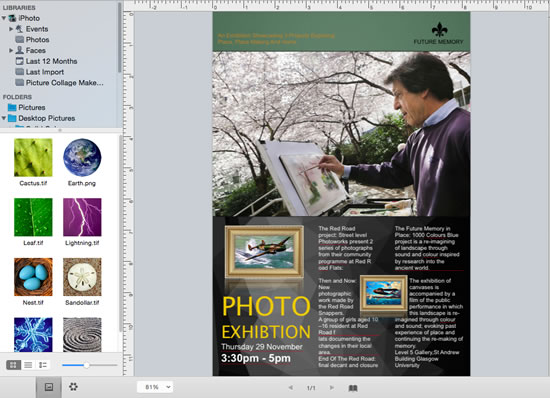 Furthermore, high-quality images will make your flyer look professional and appeal to your audience. So you can decorate them by setting their image effects. In Image List, you're free to adjust Saturation, Hue, Contrast and other effects or add mask based on your own needs.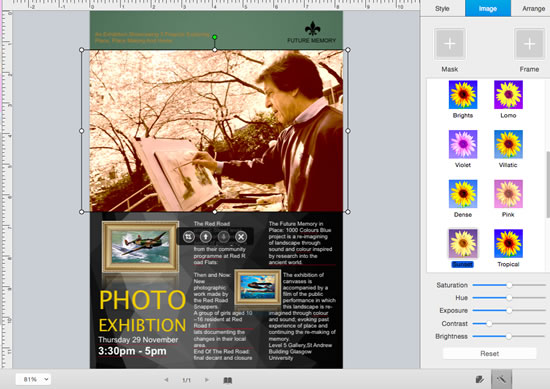 Step3. Add the Necessary Information into Flyer
Double click the existing editable text boxes to replace the original words with your own necessary information. Or you can click

icon on the top of window to add a new text box and then edit text into it. After you have added all crucial information, you can freely customize text style, color, size, layout, etc. by clicking Text button on the right window.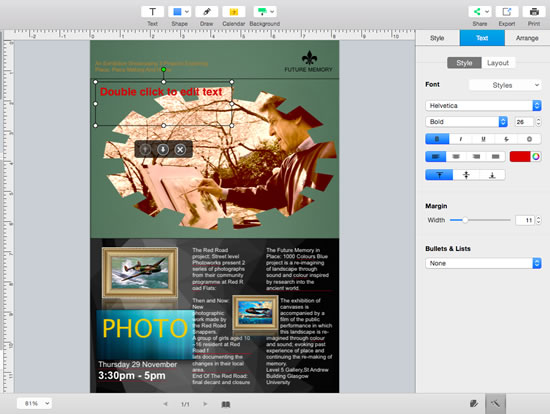 Tip: Make sure your flyer's information is quite clear before you display or post it somewhere.
Step4. Set Background
Click Background button on the top of window and then choose Color, Pattern or Image to set your background. In Image List, you can select your own pictures as the background of your flyer design.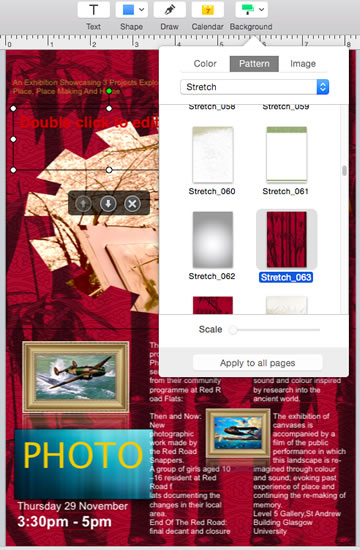 Step5. Print Your Flyer Out
Want to more people know your flyer? Why not print it out and post it somewhere that is visible daily to capture the readers' attention? Click Print button to directly print your finished flyer out. If necessary, you can make some print settings such as Copies, Pages, Size, etc to satisfy all your basic needs.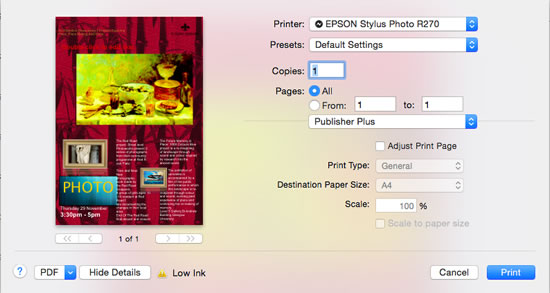 These free flyer templates provided in Publisher Plus will help you find design inspiration and give you an access to create excellent, high-quality and eye-catching flyers with minimal effort. It's worth a try.
Related Articles