How to Make Magazine on Mac in Minutes
Have you spent time thinking of starting up a magazine? Maybe you want to make magazines for business promotions, about your favorite sports, music and others. Or maybe you just want to get information out into the world about an issue you are passionate about through magazine. Whatever your reason, magazine cover is always the most important part of a magazine.
A visually attractive and easy to read cover is the first task when you're going to make your own magazine. You have to put a lot of effort and thought into it before actually starting to design. But if you use a magazine cover maker as a helper, it would minimize your workload. Publisher Plus is such one with so rich functionality and so affordable price, allowing even complete novices to make magazines instantly without hassles. This simple tutorial will provide you a quick way to get you started in magazine creation. You will discover that it is not an exhausting job as you thought.
1. Choose a magazine template
Start by launching Publisher Plus where many magazine templates are included such as Media Magazine, Modern Magazine, Sports Magazine and more. Browse these readymade templates and double-click to choose one that is most relevant to your purpose and then personalize it to look just the way you want it to!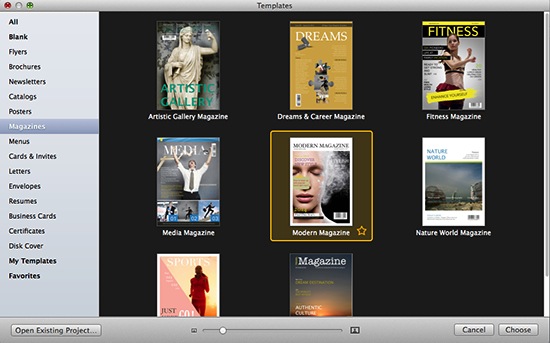 For this tutorial, I am choosing a Modern Magazine template.
2. Add your own photos
There are many preset pictures on the template, and you need to replace all with your own. Open your iPhoto library or other folder on the left panel, then choose a photo you'd like to use and drag it onto one of the existing pictures in the magazine.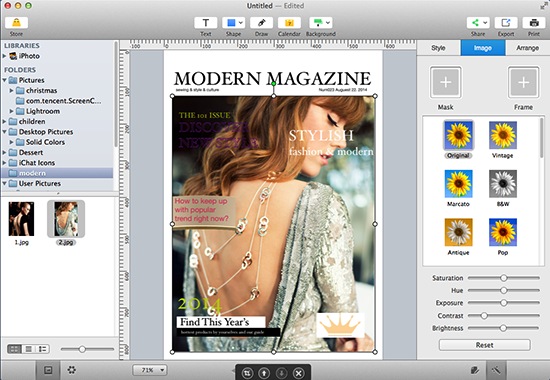 Repeat this process until you've replaced all the unwanted pictures. You are given access to rotate, resize, crop and apply special effects, masks/frames and so on to adjust your photos.
3. Replace the text on template with your own
After replacing all pictures with your own, go about the business of filling the unrelated text with your own content.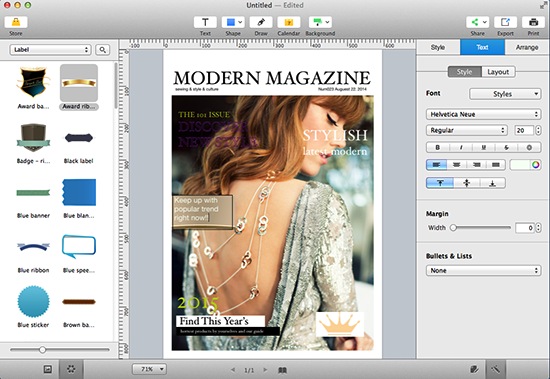 Double click the text objects and directly input content you'd like to include in this magazine cover.
Don't forget to highlight the important info, like headings and subheadings, etc. with some nice-looking font and stylish text effects.
4. Save your magazine design for future use
Once you've customized the magazine template yours, you can go to the upper right corner and click Export button to save your design as desired image format for later use. Also, you have options to directly print or simply share the magazine cover online via Email, Facebook, etc. Do whatever you want.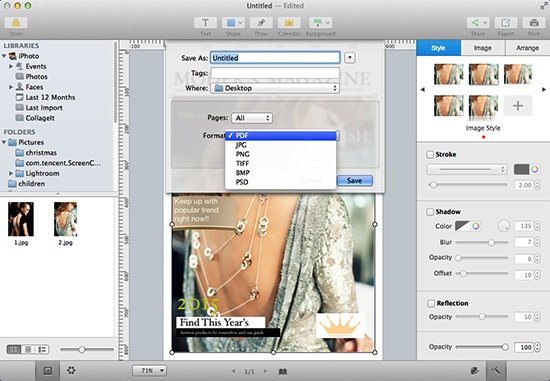 This article will help you through the process of creating a magazine and running it successfully. With Publisher Plus as you magazine cover maker, you'll never be stuck on making magazine for either a social project or as part of a business plan or even as a fun project to do at home. Get started with the customizable magazine templates now.
Related Articles