Convert Images to GIF Formats Quickly and Efficiently
The Graphics Interchange Format (better known by its acronym GIF) is a bitmap image format and has become popular due to its wide support and portability. It supports up to 8 bits per pixel for each image, allowing a single image to reference its own palette of up to 256 different colors chosen from the 24-bit RGB color space. GIF images are compressed using Lempel Ziv Welch lossless data compression technique to reduce the file size without degrading the visual quality. So, whenever you see some graphics or logos with solid areas of color, you probably want to deal with them in GIF formats.
But, there is a series of problems may bombard you when you decide change images to GIF. Just like how to quickly and efficiently convert images to GIF? Which conversion tool is the best? Neither of these is a problem if you choose Image Converter as your final design software. Now free download it here and check the below steps on how to convert images to GIF with this easy-to-use and full-featured GIF converter.
Step1. Add Images to Get Started
Launch Image converter and then click Add button to add all the images you decide to convert to GIF format from your local disk. If you find one of your photos you had added is no longer suitable for converting, you can click once on that photo and then click Remove to delete it. Also, you are free to preview them with small thumbnails, sort them by date, name, type, etc. or rotate them.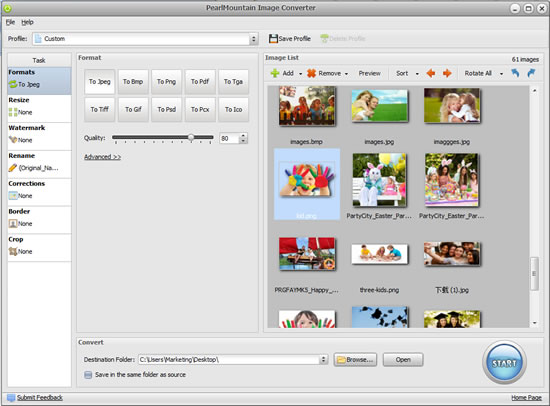 Step2. Choose GIF as Output Format and Make Corresponding Settings
Click Formats button to choose To Gif as your final output format and then make some corresponding settings, like freely check Interlaced and Animated Gif. The good thing for you is that you can freely set File Name and Frame in Animated Gif List based on your preference.
In addition, need to resize, rename or crop your images? Or want to add watermark or border to decorate your images? No worry. All these settings can be perfectly done with the help of the full-featured Image Converter.
Step3. Start Converting Images to GIF
Once all the settings have been finished in a satisfactory way, you can click Start in the bottom right to start the conversion process.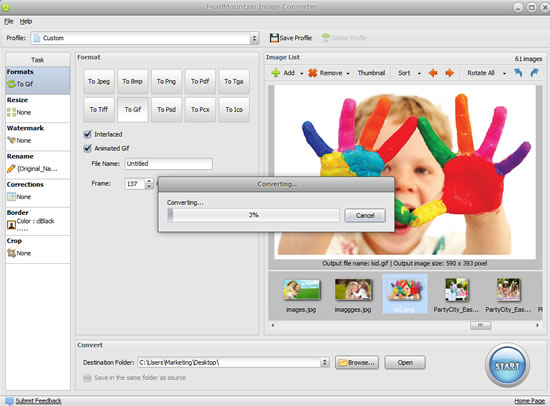 Under the assistance of Image Converter and these three simple steps mentioned above, you can learn how to quickly and efficiently convert images to GIF format without any difficulty.
Related Articles