How to Easily Convert PNG to ICO
There are a number of reasons why many users wish to convert files from PNG to ICO format. One of the most common ones is that the ICO format allows the user to create shortcuts to start various programs on his or her device. Another reason is to make use of the graphical interface like most of the Operating Systems use. Have you ever considered converting PNG to ICO to meet your personal needs?
Maybe your answer is yes. But if you haven't started the process yet, go ahead and start it now with an easy yet all-in-one converter – Image Converter. It will enable you to convert PNG files to ICO format in a matter of a few seconds. Now free download this image conversion software and check the below guide on how to convert PNG to ICO with three simple steps.
Step1. Add Images
Launch Image Converter and then click Add button in the popup window to add your photos in PNG format from your local disk. Free to remove any unwanted photo, sort images by name, type, size, etc. or rotate them based on your own needs.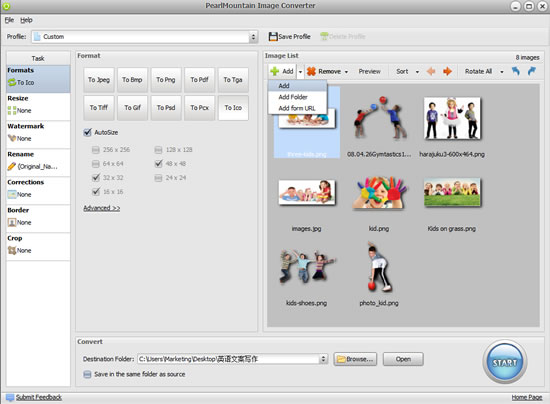 Step 2. Make Settings
Click Format button in the left window to choose ICO as your output format after you've added all the images into the edit area. Here you can check any size suitable for your image conversion according to your own preference. In addition, click Advanced button to check 256 Colors is also available.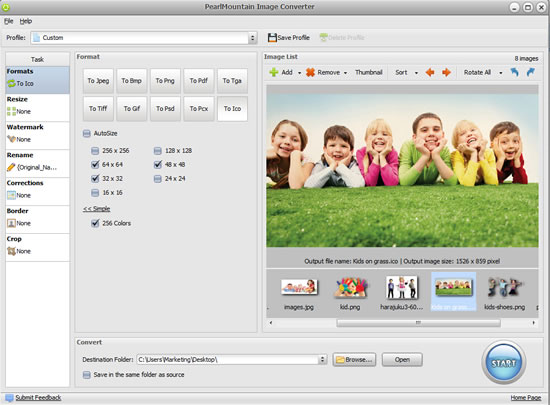 If necessary, you can make more settings to customize your images, such as add watermark, rename images, apply colors or photo effects, etc.
Step3. Start Converting PNG to ICO
If you're satisfied with all your settings, you can click Start button to start the PNG to ICO conversion process. Once the conversion is done, your images will be saved in its new ICO format.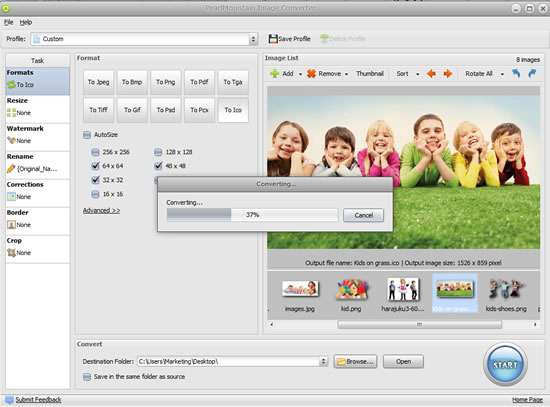 This easy and quick image converter can be used by novices as well to create high quality ICO files suitable for website favicons, desktop logos and any other icons in a range of sizes and colors. Why not try it now? May you have a nice experience on it!
Related Articles