Various Photo Effects and Photo Filters Make Photo Retouching a Breeze
Just be tired of your badly rough photos? Want to touch them up with shinning photo effects, stunning photo filters or more suitable colors? To meet all of your photo retouching needs, we are going to write this easy article.
PicLight for Mac is the best photo editor for applying photo filters, creating photo effects and making your photos stand out! If you want to make you rough photo great or make your great photo more creative, check this quick tip to get an easy start.
Open the Photo Editor and Add a Photo
Once you open the photo editor, a screen of Load/Import Photo will be displayed. You are free to click the button at the center screen to add you photo. However, it's quicker and easier to drag and drop the photo into the screen directly.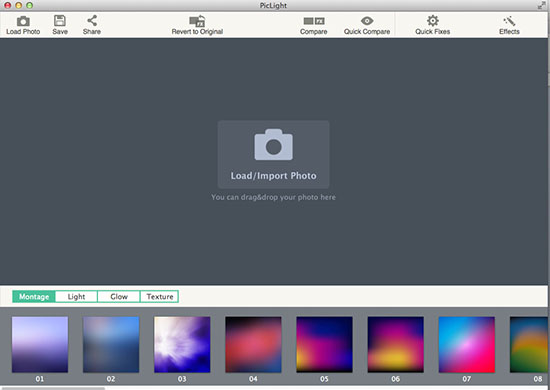 Photo Retouching with Lighting Effects
Go to lighting effect feature and switch between the four different tabs of Montage, Light, Glow and Texture to try any lighting effect you like. You are able to layer up photo effects from the four categories onto your added photo. Here we try the 40th photo effect in Montage, the 21st effect in Light, the 19th effect in Glow and the 24th in Texture.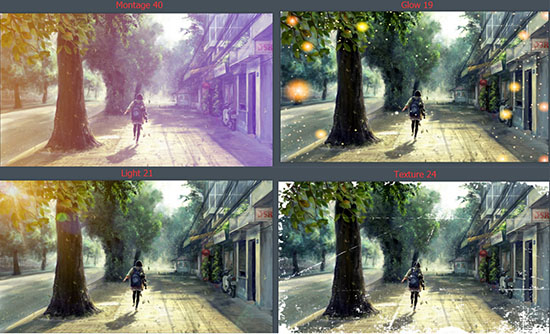 To make endless possibilities, you can try the Blending Mode which includes Screen, Overlay, Color Dodge and Lighter. You will get the perfect blending result by trial and error.
In addition, the two flip icons besides the Blending Mode allows you to flip the exact lighting effect you choose horizontally or vertically. And you can grab the Alpha slider to adjust the opacity of the chosen effect.
Refine the Photo Using Quick Fixes
Click Quick Fixes option to fine-tune the photo size, rotation and color adjustments. If you need, crop the photo to fit the aspect ratio. You are free to rotate and flip the photo horizontally and vertically. There are also basic editing tools such as Saturation, Hue, Exposure, Contrast and more. You are allowed to adjust them by simply grabbing the corresponding sliders.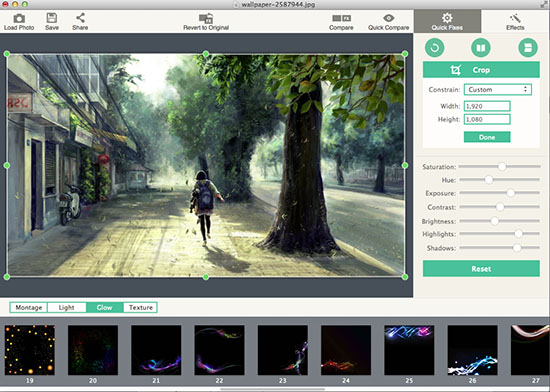 Use Photo Filters to Touch up the Photo
If it's not enough with only lighting effects on a photo, just apply a delicate filter. There are many photo filters like B&W, Sepia and Vintage and many other stunning filters built in PicLight for Mac. You can know the final result of each filter effect with the exact photo thumbnail preview. Re-click the chosen effect to remove the effect result.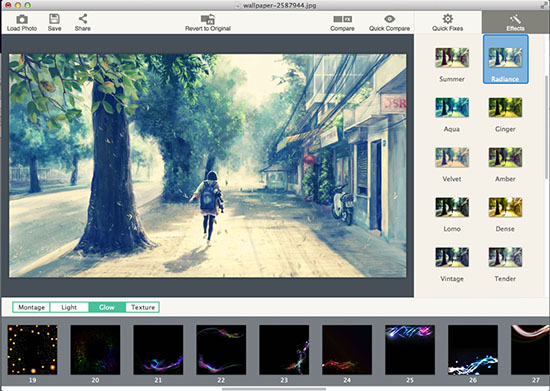 Save and Share Your Photo
You are able to access the other feature like the Compare functionality. This feature allows you to compare the original photo with the effected photo in one window easily with the prompt "Original" and "After" below each other.
Once you are satisfied, you can quickly share it to Facebook, Flickr or through email. You are able to send the photo directly to iPhoto as well as save it as image file to your folder. If you want, simply save it as desktop wallpaper.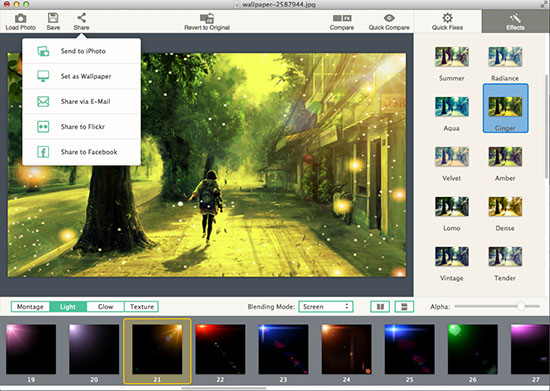 If combining photo effects and filters with basic photo color adjustments fascinate you so much, PicLight for Mac is a must that should be in your photography arsenal. With this little photo retouching tip, you're just a few steps away from touching up your rough photos to create an image that's tasteful and uniquely yours.
Related Articles