How to Convert JPG to PDF with Three Easy Steps
JPG files are one of the most common image formats that can be easily inserted into another document or presentation, but they can be a bit of a hassle if you're trying to preserve the integrity of the document. Converting the JPG to PDF image format can be a great solution, allowing you to print the document without worrying about the loss of font, color, and other data of the original files.
Besides, converting JPG to PDF formats makes the files more convenient to be sent to others, and it is a great way to make sure that the documents can't be altered without leaving an electronic footprint. If you want to know how to convert JPG to PDF format, just spare a little moment to read this guide. To convert JPG to PDF, you need an easy to use image converter to get started.
Step 1. Add Photos
Once you launch the image converter, you will see a window like below. And you have two options to add your images into the program. One is clicking the add-image icon to add images from your local folders. Another is dragging and dropping your images directly into the main screen.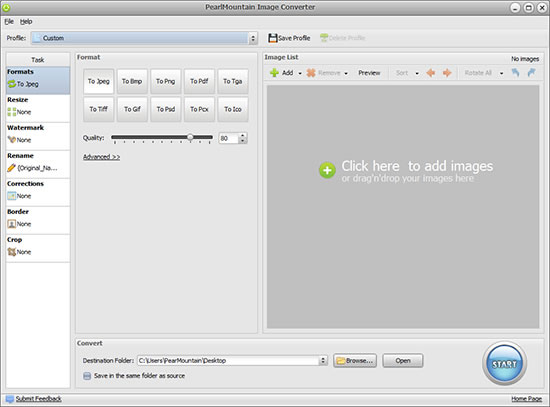 Step 2. Make Some Settings
Before converting the JPG to PDF files, change some properties you may want. In the left pane, you can find the option to set the output format to PDF and define the Compression, Page Size and the File Name of the output files. Also you can convert JPG to PDF files respectively by leaving the box before "In one document" unchecked. Otherwise, it will convert all JPG files to one PDF file.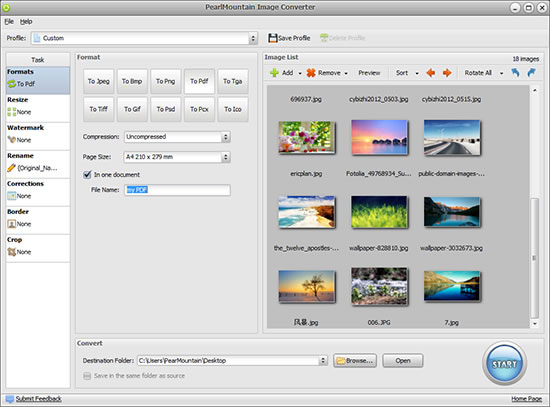 In the right pane of the window, you are free to make other settings such as removing unwanted images, previewing image with small thumbnails or in sliding way, sorting the images, rotating images, etc.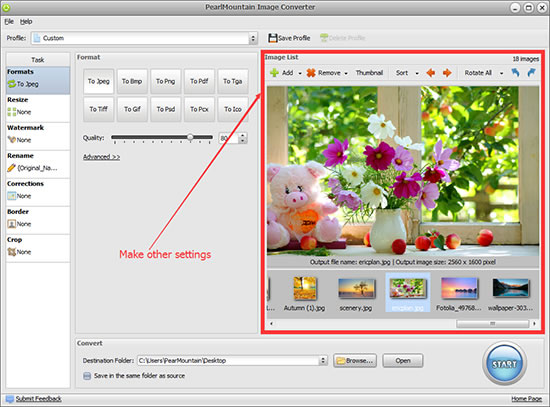 In addition, you have more options to edit your images. If you need, you can resize, watermark, rename, apply colors or photo effects, add photo borders and crop your images in batch.
Step3. Start Conversion
Everything looks great? It's time to export. Simply click START button to start the conversion process. The conversion process should only take a few moments.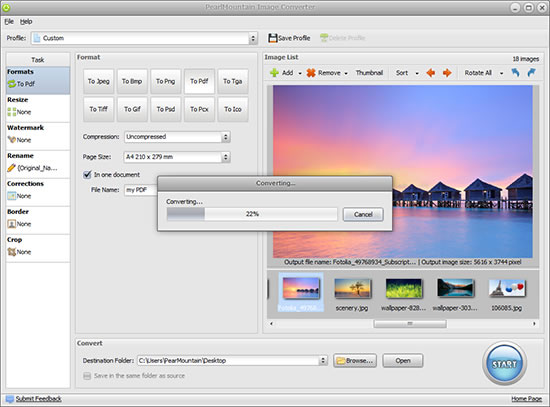 Still don't know how to convert JPG to PDF with ease? Just take a look at this fast and reliable JPG to PDF converter. It only takes a few seconds to help you satisfactorily convert tons of images from JPG to PDF. Enjoy the free trial version now.
Related Articles