Certificate Templates Give You Ideas for Printable Certificates
Printable certificates are awesome gifts to give encouragements to sport participants, employees, students and all average people. No matter what you do and no matter how old you are, you would definitely be happy to be recognized by people around you with a printable certificate, which will bring attentions to the special accomplishments and achievements you made. Let's make one for your activity participants, employees, students and all related people.
With all fully customizable certificate templates built in Publisher Plus, a smart certificate maker, you can easily create the exact printable certificates you're looking for. Here you can download it for free.
Decide a Design from the Preset Certificate Templates
Open the certificate maker on your Mac and you will see a lot of gorgeous templates built in. Then, go to the Certificates category and look through these professionally designed certificate templates. Finally decide one you like to start making your own printable certificates.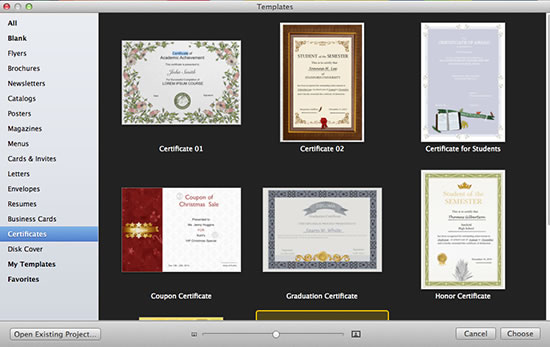 We will constantly add certificate templates to Publisher Plus for Mac. Then, you will have more options to make the certificate for your own type.
Set Size of Your Certificates
Click page-setting options to set the page size, orientation and page margins. Here you can see we choose A4, landscape and no margin of the certificate. You have option to choose not to display the object outside of the margin by simply checking the box beside "Clip Objects Outside of Margin".
If you can't find the size you want from the preset ones, you are free to make and save your own size using the feature of Page Setup… under the File menu.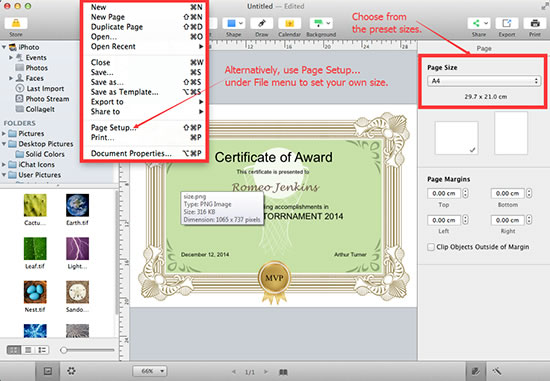 Customize the Certificate Freely
To make the printable certificates properly useful, add the related award text captions onto the certificates. And customize it with suitable elements such as background, clipart, etc.
Set a Suitable Background
Publisher Plus provides you three normal ways to set the background: Color, Pattern and Image. Clicking Background toolbar, you will see the three handy options. Under the Color tab, you can fill the background with certain colors in Solid, Gradient, and Advanced Gradient ways. I love the Advanced Gradient option since it looks excellently cool as you can imagine. You can easily click on the color bar to add a certain color while easily delete a color by simply dragging and dropping it off the bar.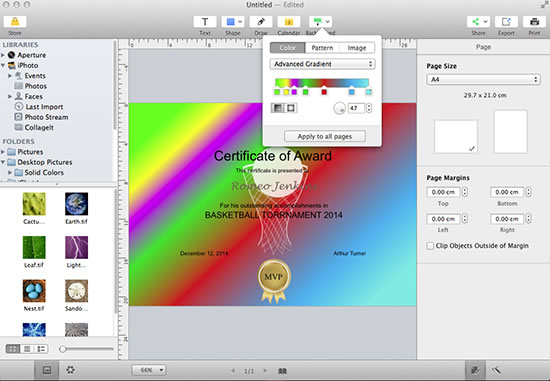 Besides Color background, Publisher Plus for Mac allows you to set a preset pattern as background. Here are hundreds of preset patterns. Just browse them and select your favorite one to set it as background. In addition, you can upload your own image as background as well.
Add Award Text and Decorations
To make the certificate readable, add some award texts on it. Select the text and adjust its basic properties such as font, color, alignment, margin, etc.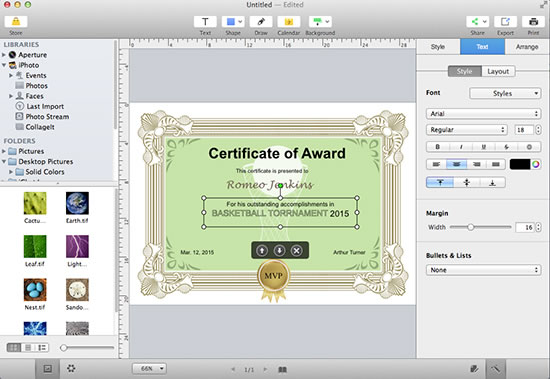 It's possible to add clipart to your printable certificate with this certificate maker. Go to the comprehensive clipart list, search it with a specific name to find a piece of clipart and add it to your certificate. Then, you can freely apply photo effects onto the clipart and fine tune its Saturation, Hue, Exposure, Contrast, etc.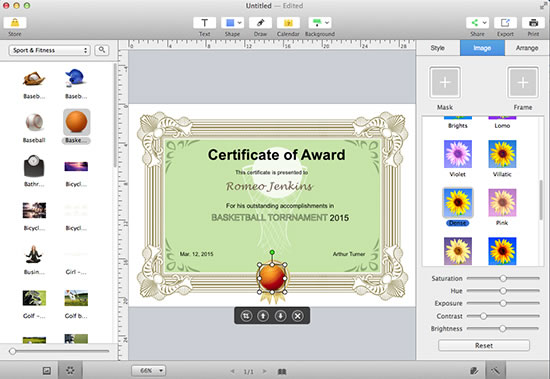 Print Your Certificate out
If all the elements on the certificate look just great, click Print button to preview it and make some settings for print. Once everything set fine, print it out directly.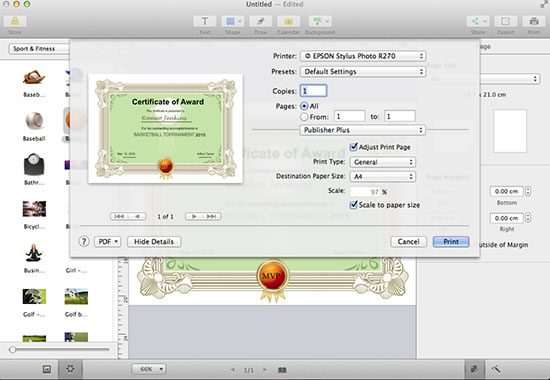 With the gorgeous certificate templates in our certificate maker Publisher Plus, you can make your own type of printable certificate for recognition with sport participants, employees, students and all average people. Why not try it out for free?
Related Articles