How to Make a Flyer That Gets Results
Whether you want to advertise a business, announce an upcoming event, let people know about a volunteer activity, sell a product or service, or spread the word about a lost pet, a flyer will help you get your message out.
Whatever your purpose is, you will be glad to know that making a flyer can fulfill all you needs. But does it still sit on your to do list because you can't afford a top-notch designer or you and Photoshop are not best buddies? If so, today's tutorial on how to make a flyer is just for you. Just see how you will get an attractive flyer with such an easy flyer maker!
1. Choose a flyer template for easy and quick design
With a rich set of flyer templates available in Publisher Plus, you can easily make an eye-catching flyer to advertise, promote, or announce something to numerous people. Just choose one that is relevant to your product or company and customize it to your needs.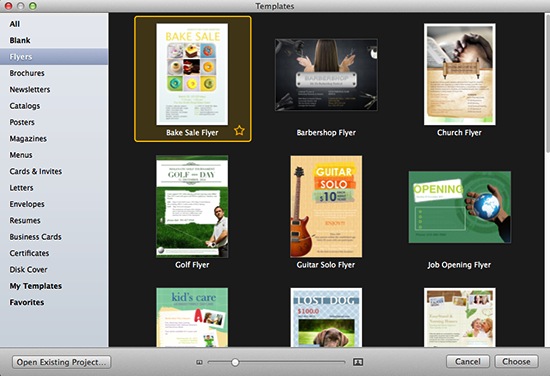 Double click on your desired flyer template, and then a document opens with images and text already filled in, ready to be replaced. For this tutorial, I am choosing a product sale flyer template.
2. Type and format your text for flyer
Double click to replace any placeholder text on the flyer template with your own. The text can be typed directly into the flyer, or it can be copied and pasted from somewhere else.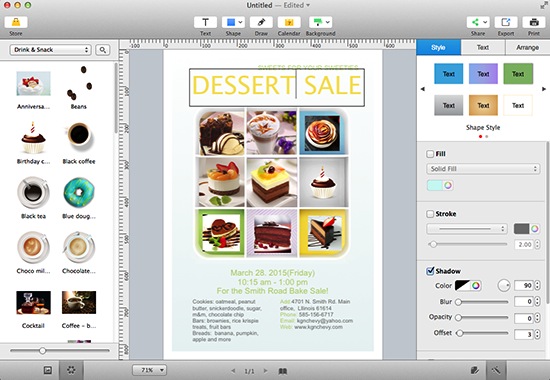 Format the text by using pre-existing style profiles from the "Style" option or manually modify the text font, size, type, and other features on Text panel.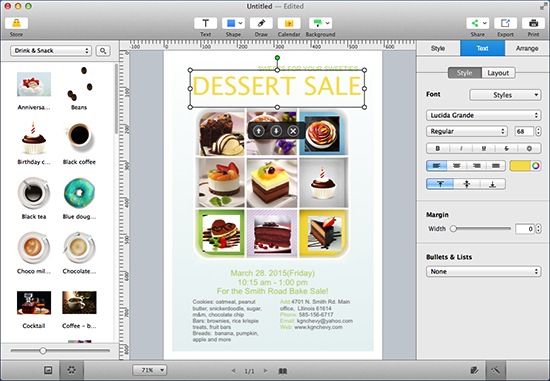 Tip: Make sure the most crucial information like headings, etc. is highlighted and becomes the first shot at capturing the readers' attention. Less important data like the contact details can be placed at the bottom, in smaller font.
3. Change the pictures on flyer
The template includes many photos, just click once on the photo to select it and then drag and drop your own photos onto the placeholder photo in the template. Repeat this step for any other pictures you wish to replace if your flyer has more than one placeholder picture.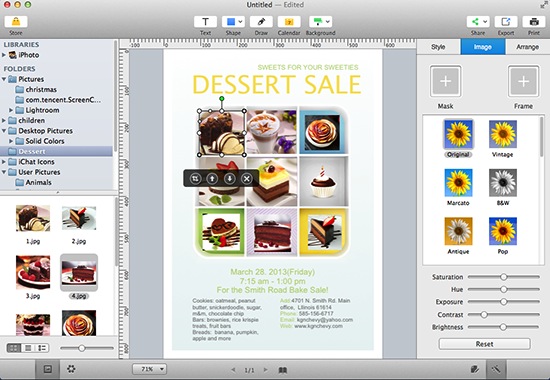 This flyer maker has the image composition abilities to rotate, flip, and adjust Saturation, Hue, Exposure, Contrast, Brightness and other effects.
4. Share or print your own flyer design
You have several options to deal with your finished flyer: One is to share it anywhere via Email, Facebook, etc.; one is to save it as image files on your Mac for later use (for projects intended for printing, the best choice is to save as PDF); one is to directly print it out with your own printer.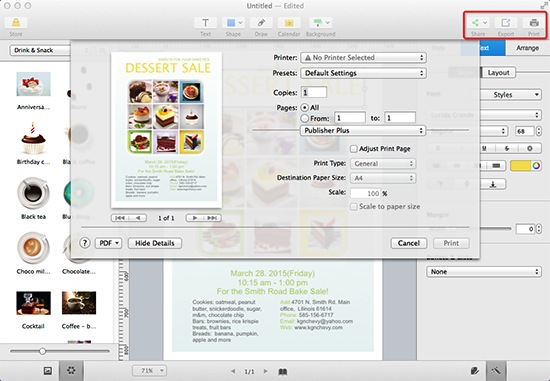 With Publisher Plus as your flyer maker tool, you'll be surprised at how easy it is to reach your audience. Just get started on making your beautiful flyers with its well-designed flyer templates now!
Related Articles