Make a Resume That Will Get You Hired with Easy Resume Maker
Still not getting any call for job interviews you expect? Sometimes your resume could be to blame. Maybe it's time for a re-do. If you can make your resume interesting, you are more likely to increase the chances of getting interview calls.
Wonder where to start? What information to include? How to lay it out in a professional look? No more worries! Let a resume maker help you do all the hard tasks! Publisher Plus is such a great resume maker that provides easy and quick way to spice up your resume and make it look more attractive to the recruiters.
Free download it to have a try! Following guides will show you a clear way.
1. Start by Choosing a Professional Resume Template
You may not have the experience or the skill on how to make a great resume that is why Publisher Plus is offering you a selection of professional resume templates.
Launch this resume maker on your Mac; you will instantly see many perfectly designed templates in popup window. Click Resumes category and on the right side, choose a resume template that suits your preferences to start.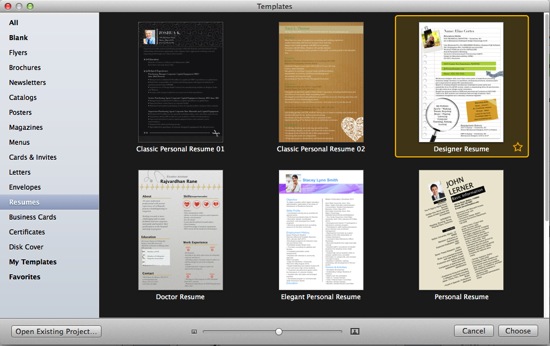 2. Put Together Your Resume Information
After opening the resume template, you need to fill in your own personal information and work experience.
If necessary, drag & drop to replace the preset photo on resume template with your own. Also, you can click

on floating pane to directly delete it if you don't need a self-photo.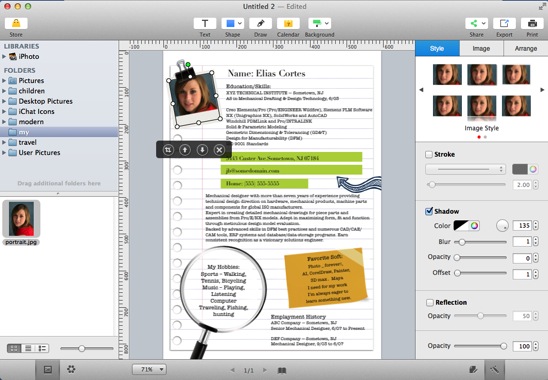 Next, you need to input your details. Select the text objects on template and double click to enter into editing mode. The first thing comes to contact information which includes your name, address, phone number, and email address, etc.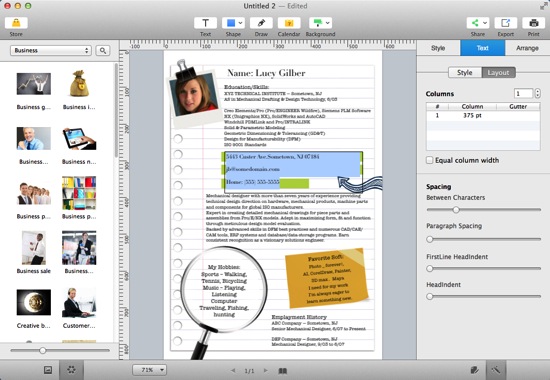 Repeat above process until you've replaced all the text in resume template with your own include education, skills, hobbies, work history and so on.
3. Format Your Text
In order to make your text more readable and attractive, you have options to customize it to get a better look. Select the text your want to optimize, on the right Text panel, free to set the text font, size, color, alignment, column and more with ease, especially for headings and sub headings, which can attract the eyes of potential employer at the first glance.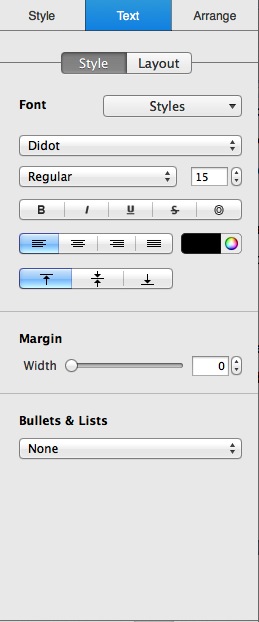 4. Easy & Quick to Save or Print Your Resume
You are given convenient options to deal with your resume once you've got your final satisfaction.
If you want to print it, you can click Print button on top of window to directly print it out.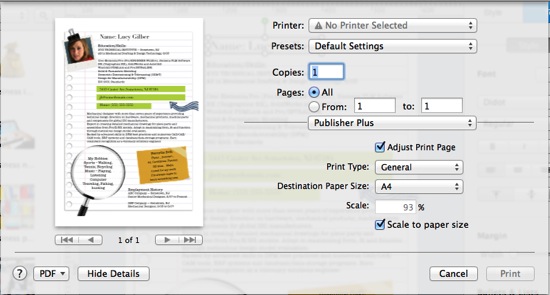 If you need to email or upload the resume as a file, you can click Export button to save it as PDF.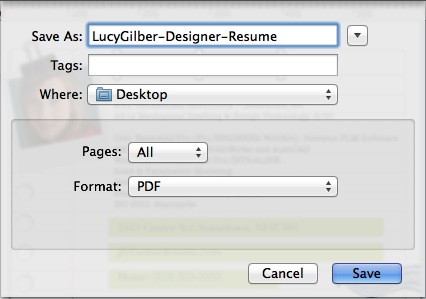 Publisher Plus makes it fast and easy to make a resume that hiring managers are looking for. Download this resume maker and have a professionally designed resume in no time!
Related Articles