How to Make a Poster with Poster Ideas from Creative Poster Designs
Want to know how to make a poster attractively? These Pro poster ideas from creative posters designs will help you guys without many techniques complete a perfect poster easily. Go ahead to download Posterist, a free poster maker on Mac.
1. Choose a Favorite Template
Launch Posterist for Mac and start to choose a template from a number of marvelous poster designs which will guarantee you some creative poster ideas. With these awesome poster designs, you will definitely know how to make a poster beautifully even though you are not a designer.
Here you can see six different types of designs: Modern, Classic, Art, Holiday, 3D and Creative. It may take a while to load all of the premium templates for preview. Just be patient and then choose the style you like.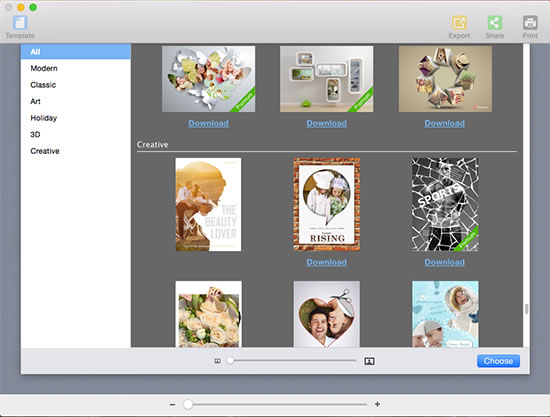 2. Add Your Own Photo and Story
Posterist is a super easy poster maker. This doesn't mean you can't make changes to the poster designs. It allows you to add your own life photos and texts on your poster.
Add Photos and Edit Properties
Click onto the photo area and click the library button to add your own photo. Alternatively, you can simply drag and drop a photo directly into the photo frame. Then you will see there is a floating toolbar under the photo.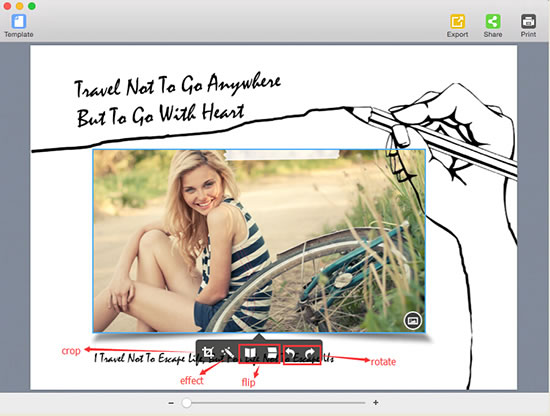 Here you will see a few options for cropping, adding effects, flipping and rotating. If your photo needs to be cropped, click the crop button on the floating toolbar to make it fit well in the frame. To make the poster look better, add a photo effect to the photo. Here, I'd love to add the classic B&W. Click effect option and slide to view the preset effects. Then choose the final one.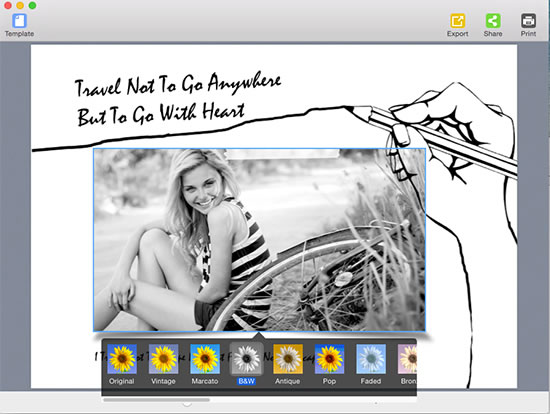 If needed, flip your photo vertically or horizontally. Besides, you can also rotate photo by 90 degrees clockwise or counterclockwise. These handy options will definitely help you find your own poster ideas.
Edit Text Captions
Double clicking the text object, you will go to the text edit mode. Here you are able to type your own texts to tell a story. Then you are free to set the text font, style, color, etc.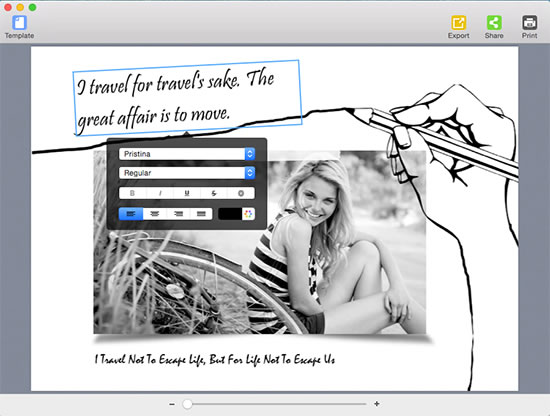 3. Print Your Poster
Once a good-looking poster is finished, it's time to print. Just click Print button to preview your poster and make settings to your poster.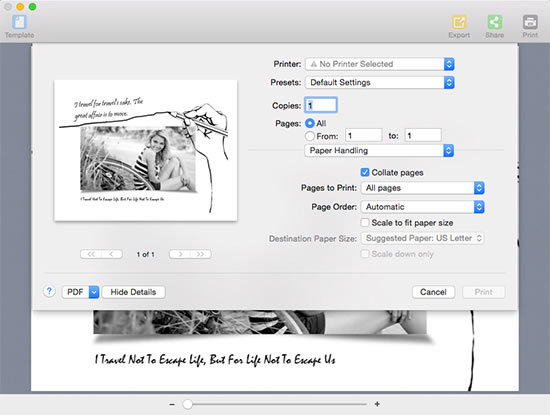 You have other options to save the poster as image files like PDF, JPG, PNG, TIFF, and BMP. You can also share the poster with your friends easily via Email, Message, Airdrop, Twitter, Facebook and Flickr.
Not a designer? Don't worry. Those beautiful poster designs in Posterist will tell you how to make a poster creatively and gallantly.
Related Articles