How to Install the Free Wedding Invitation Templates on Your PC
Professionally designed wedding invitation templates allow you to create stunning wedding invitations quickly and easily. It gives you some creative wedding ideas that may inspire you to make your own wedding invitation cards. However, do you know how to get some free wedding invitation templates easily?
If you get the nifty software Picture Collage Maker Pro, try to download the free templates on its website or within the software button of "Download More Templates…" If you haven't got the software, take a free try.
Launch the Software and Get into the Editing Mode
Open Picture Collage Maker Pro and get into the editing mode. You will see the button of "Download More Templates…" at the left of the main window. After clicking the button, you will be directed to a page that displayed with many free templates. You can also directly go this page to download the add-on templates for free.
Download Free Templates on Website
Browse the free templates and choose the free wedding invitation templates. Click Download button below the Wedding Invitation Add-on Templates Pack, and you will be directed to another separate page with free templates only for wedding invitations.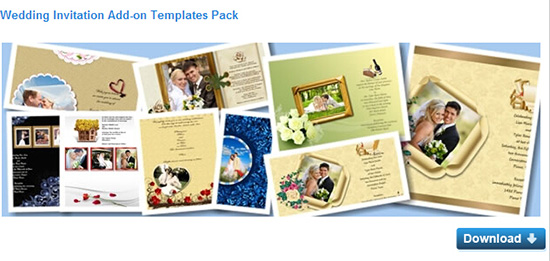 At this page click the Download button. It will download the free wedding invitation templates immediately. The downloading speed is closely related to your Internet speed.
Install the Downloaded Free Templates
After the downloading finished, double click the installer and click Run to install it. Then install the template pack to the same director of the Picture Collage Maker Pro software.
Everything is done. Close and restart Picture Collage Maker Pro. You can see your downloaded free wedding invitation templates under the greeting_card template category in the template window. You should notice that the free templates are displayed in the greeting_card category not Greeting Card category.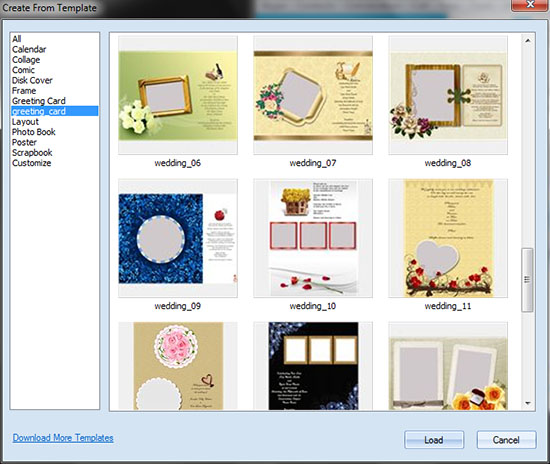 When you installed these free wedding invitation templates to your PC, you can use them next time when you create personalized wedding invitations without download them again. If you have a stander version of Picture Collage Maker Pro, V.3.x or later, feel free to download all kinds of free templates in a few seconds for further use! If you don't have the software, no more hesitate, try it for free.
Related Articles