Make an Extra Special Father's Day Card Gift
Father's Day is a time to remember all the good things that dads do for us, which undoubtedly brings up fond memories. Whether it's the leisure time he taught you how to ride a bike and how to play catch or the education time he taught you how to do some important things that have helped to shape you into a promising person, you really owe him a lot for all he's done. Therefore, go ahead and show him what an amazing job he did raising you by sending your homemade Father's Day gift.
Here is a simple but touching Father's Day idea that you can make a personalized and meaningful Father's Day card for your dad and let him know how much you love him and what he means to you. Let's check the following steps on how to make a special Father's Day card gift with theeasy and quick Picture Collage Maker.
Step1. Choose Template
A beautifully and professionally designed template is certainly striking for your dad. Open this software and double click Create From Template to choose your favorite Father's Day template from abundant pre-designed template resources.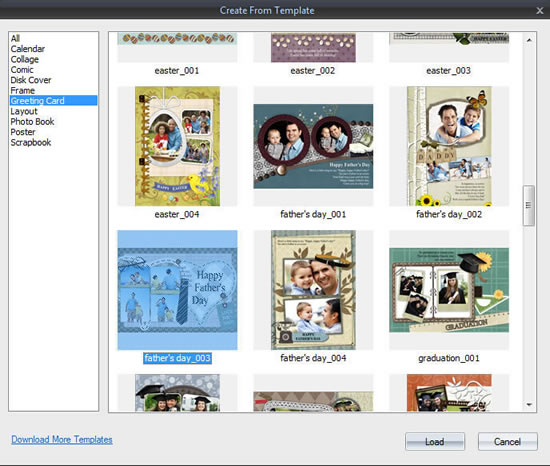 Step2. Add Photos
You must have plenty of photos recorded sweet memories with your father in daily life. Here you can lock them into your card forever. Just click Photo button on left to add them into your card. You can get your last satisfaction on each photo by clicking Photo button on top of window or directly clicking related icon button on top of the edit area to rotate it, add shadow, set layer and crop, etc.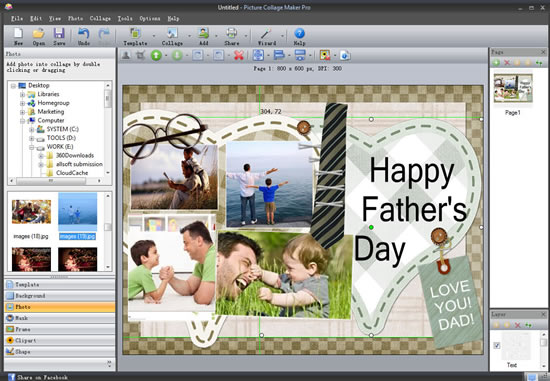 Step3. Express Your Deep Love
Want to speak out your deep love to dad? Typing your heartfelt feelings into your card can be a subtle way to express how much you love him. Click Add →Add Text button on top of window to type words you most want to say. It's necessary to set proper font size, type and color for this especially special card.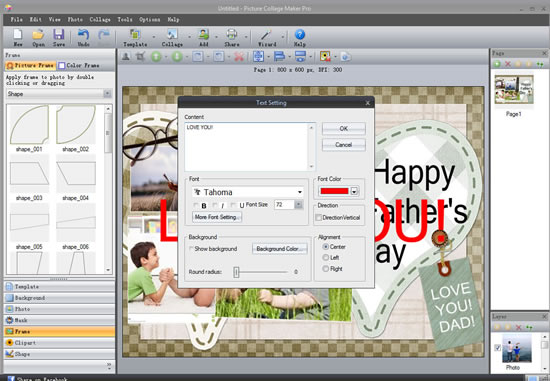 You may want to write a long letter to describe the wonderful life stories between your father and you. No need to worry about it. This software can make your idea come true. Click Add Page on the right window and double click Create Blank Collage. Next repeat step 3 to type your stories. Your dad will enjoy his day to the fullest with your outstanding card design.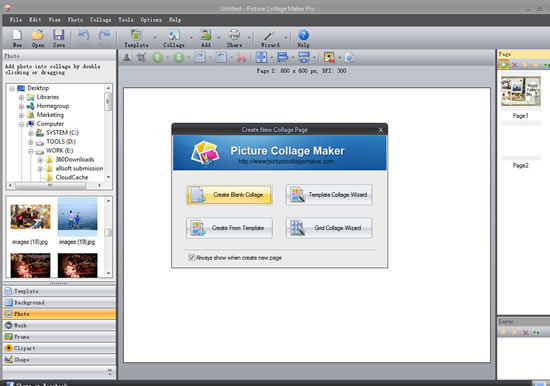 Step4. Set Background
Open Background button and directly apply your favorite pattern by double clicking or simply dragging. What's more, you have another two options to make your card much more attractive. Just click More Settings to choose color fill or image as your background based on your own personal needs.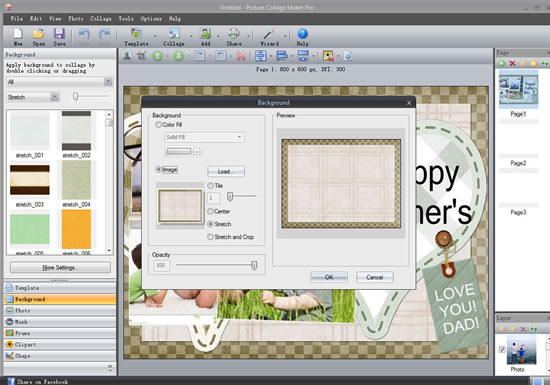 Step5. Print
Can't wait to sending your finished Father's Day card to your dad? Now Click Share → Print button on top of window to print it out directly. If necessary, you can preview it first until you get the last satisfaction.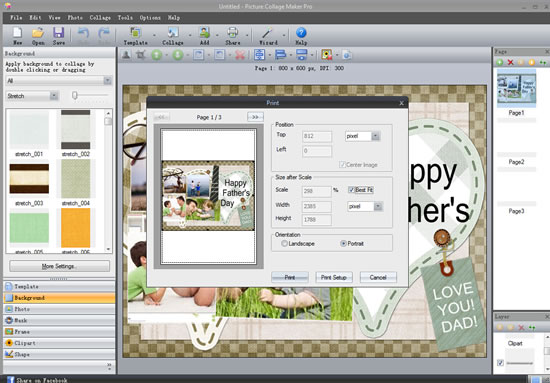 Your father consistently gives you unconditional love – that is his greatest love for you. He deserves to be honored on Father's Day with your homemade card gift represented your deepest and sincere love. May this guide can help you make an excellent card for your dad!
Related Articles