Create a Wedding Photo Book to Capture Happy Memories from Your Big Day
Your wedding is one of the happiest days of your life and you must have taken lots of photographs from that big day. Do you still leave all your wedding pictures trapped on your computer? Why not turn them into beautiful wedding books that will let you relive your special day? Custom wedding photo books can not only capture your happy memories from that wonderful day, but can also be used as a testament to your deep love.
Are you eager to make a personalized wedding photo book and fill it with romantic words of love and beautiful imagery to tell your love story? You can consider downloading Picture Collage Maker, a simple-to-use Windows collage maker for creating wedding photo books in minutes. After you finish your design, you may think it is the best photo book maker that you have never met before. Now, follow the simple steps on how to make a wedding photo book.
Step1. Choose a Photo Book Template to Start Customizing Your Artwork
Open Picture Collage Maker and click Create From Template button in the popup window, then you will see various kinds of templates appear in the main page. Click Photo Book in the left and then choose your favorite photo book template on the right side to start customizing your artwork by directly double clicking or simply clicking Load in the bottom right corner.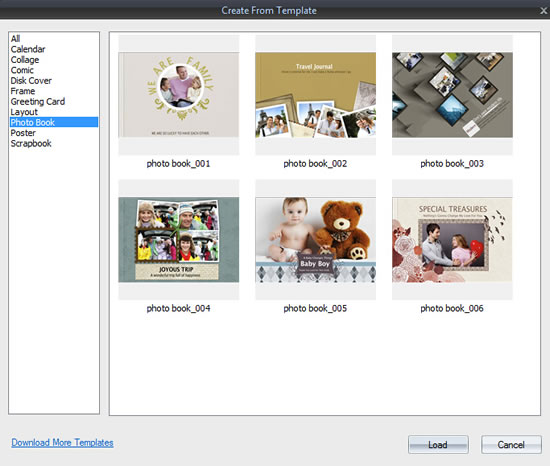 Step2. Set a Beautiful Background for Your Wedding Photo Book
Gorgeous wedding photo books call for beautiful background to catch the eyes of your friends and family members. Don't worry about that. This powerful photo book maker gives you three ways to customize an attractive background.
Click Background button and then abundant of patterns appear on the left side. The first way is to directly choose your best-loved pattern to apply by double clicking or dragging. The second option is to click More Settings and then choose Color Fill as your final background. The last method is to load your own pretty image in More Settings at will.
Step3. Add Wedding Pictures into Your Photo Book
Creating a wedding photo book by providing some of your engagement pictures, wedding shots and even a few snapshots from your honeymoon photos is a perfect way to tell your love story.
Click Photo button on the left and then add your sweet photos from your local disk into the current collage by directly double clicking or simply dragging. Freely resize and rotate photos to make them clearly display in your photo book.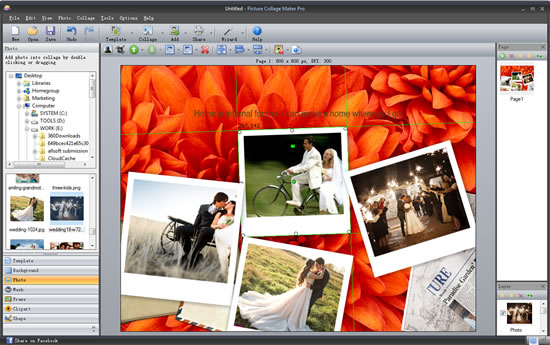 Step4. Add Vital Information You Most Want to Express
Picture Collage Maker combines various text settings to help you write your heart-warming love story that you'll be proud to share it with your family and friends. Click Add → Add Text on the top of window to type the vital information you most want to express into the popup editable text box.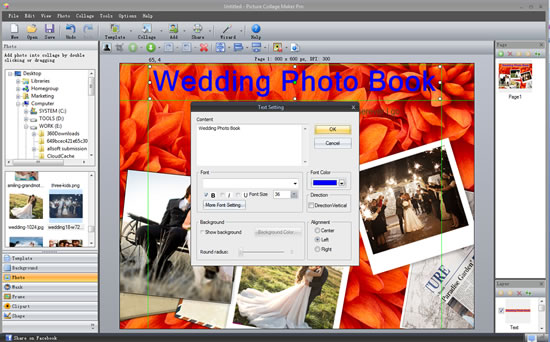 Need to highlight the title or make any other setting to make your message clearer and easier to understand? All your personal requirements can be perfectly done with this photo book maker. You are free to set font size, color, type, etc. to get your last satisfaction.
Step5. Add New Pages to Apply More pictures and Finish Your Long Story
In general, you can't finish your long love story in only one page. It means that you need to add more pages to display your beautiful pictures and deep feelings. Simply click

in the top right corner to add new pages and then follow the steps mentioned above to set background, add pictures and type messages.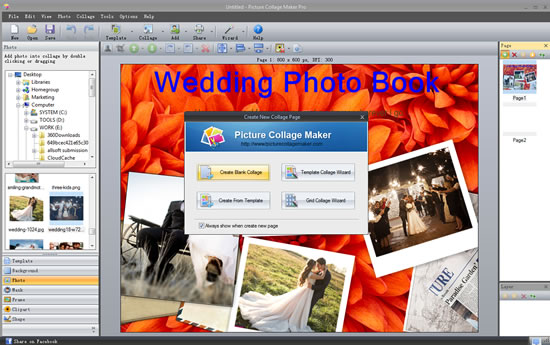 Step6. Print Your Work Out
When you're satisfied with all your settings, you can print your work out by directly clicking File → Print on the top of window. You are free to click Print Preview to preview the final effect of your wedding photo book at first. If necessary, freely make some changes to design a satisfactory artwork according to your own needs.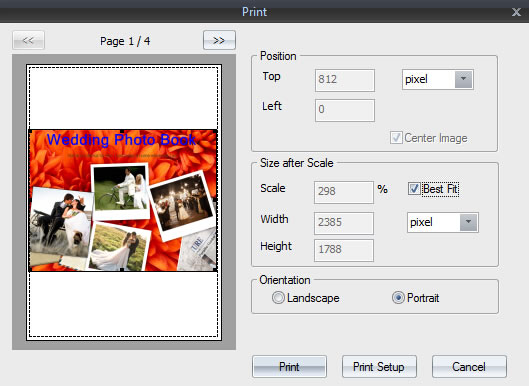 If you download Picture Collage Maker and try it now, you'll find it is the best photo book maker that enables you to create stunning wedding photo books with your pretty wedding pictures and moving love story. Whether you give your great design as a gift to friends or keep it on the bookshelf as a keepsake passed down to future generations, all of you will love it very much. Wonderful idea, isn't it?
Related Articles