The Best Graduation Gift You Can't Afford to Miss
Graduation means that a new class of young men and women are moving on to the next stage of their life, whether to high school, college or a new career. There is no doubt that they must have overcome many tough road blocks before they graduated. So, the graduation in people's life deserves special recognition after many years of working hard in the library, studying in weekends, waking up early to catch the bus to school and earning a huge accomplishment.
No longer do you struggle with graduation gift ideas or reach out to your experienced friends for some wonderful suggestions, but rather make a unique and impressive graduation card with easy and quick Greeting Card Builder. It can be a best graduation gift to remember your school years that your friendships formed and if you like, you can't afford to miss. The following guide on how to make a graduation card in easy steps.
Step1. Choose Template
Open this card maker and click Create From Template button. Next you will see varieties of beautifully designed templates appear in the popup window where you can choose your favorite graduated template. There are lots of options in Change Template Size that allow you to set page size as letter, envelope, greeting card, etc. or customize it by setting your own width and height.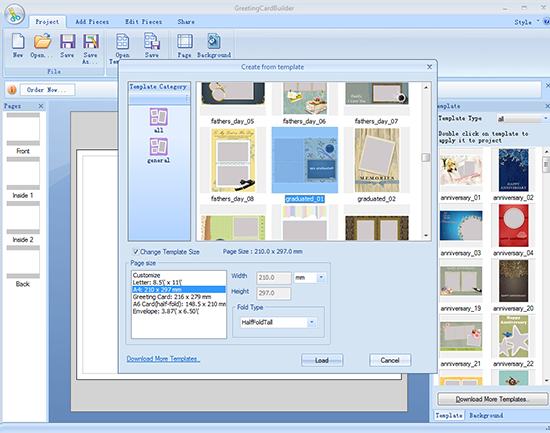 Step2. Add Pieces
Graduation is a time of great accomplishment. Celebrate this momentous occasion with a personalized graduation gift decorated with significant photos, colorful clipart, best congratulation wishes, etc. Click Add Pieces button on top of window and then you can finish adding all these embellishments and get some beautification effects.
Add Photos
Display some pictures of your classmates in their graduation caps and gowns to show their monumental moments. Click Add Photo button to add some graduation photos of your friends from local disk, which mean so much to them. If you feel these photos are not big enough to see clearly or not in the right places, you can resize them directly by dragging mouse or set proper layer and rotation, etc. by clicking Edit Pieces button.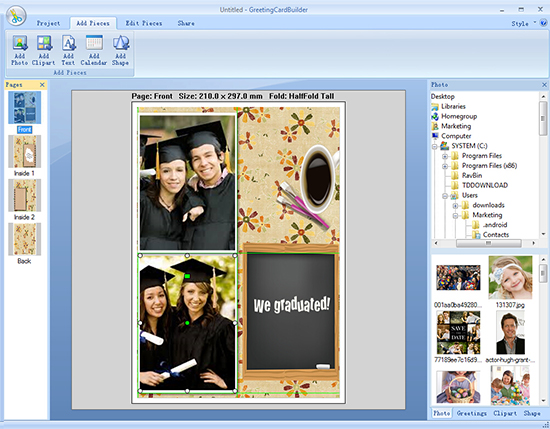 Add Clipart
Click Add Clipart button and then double click on your favorite graduated clipart to add it to the current page. You can freely resize it to get the best effect.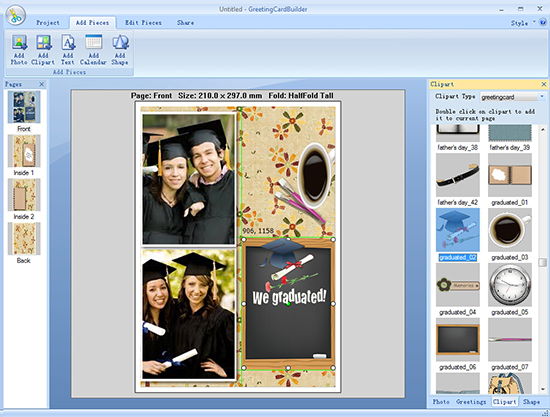 Add Text
A heartfelt note of congratulations and words of encouragement for the future are great accompaniments for graduation cards. Click Add Text button to type your best inspirational messages to wish them continued success of their schooling or careers. Free to set font color and size. Also, you can apply more settings at will by clicking More Font Settings.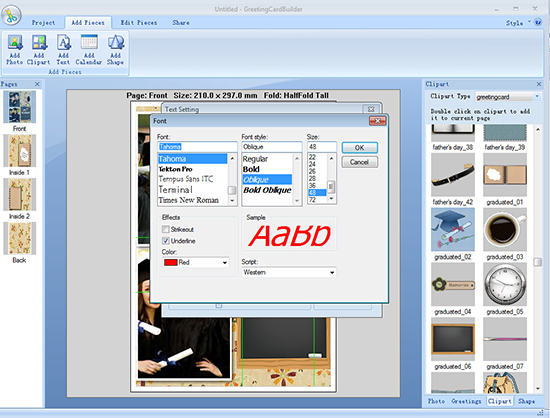 Step3. Set Background
A beautiful background would be ideal for displaying your photos. Click Project > Background Setup button and set your background by clicking Color Fill or Image. Suppose that you want to choose a preset image as background, you can pick one graduated image in Background Pattern List you like best to apply. Using your own important photos as a background is also allowed. Just click Import Pattern button to achieve it.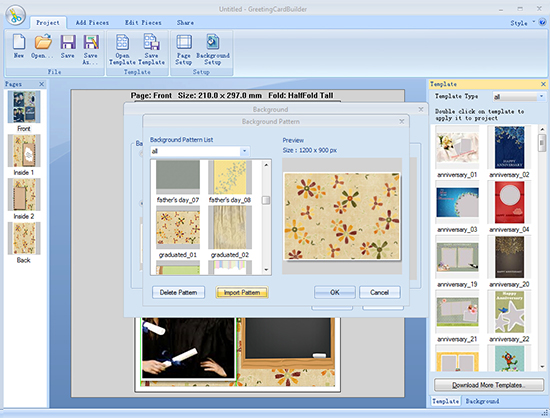 Step4. Save and Share
Click Share > Save as Image button on top of window to save your work in local disk for keeping it forever. You can share your graduation card with friends via email or print it out.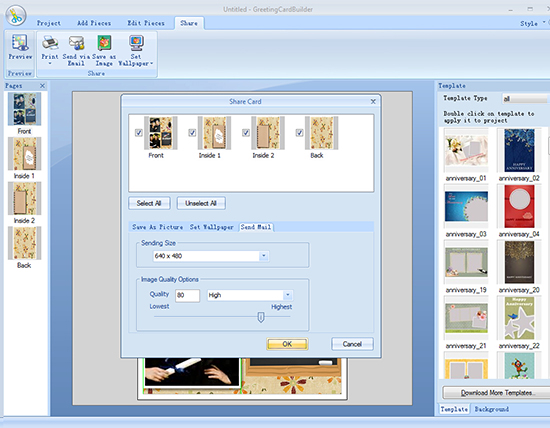 This graduation card maker comes in a large range of options that are sure to satisfy your every graduation gift idea and then inspire you to make a wonderful gift. Wish all you have a best graduation gift that captures the characteristics of all the school seasons as well!
Related Articles