Make Your Own Christmas Card for Distinctive Holiday Greeting
The spirit of Christmas is in the air, with its festive music, decorations and gifts. As a big festival, you will be very busy on decorating for Christmas and picking up gifts for families. Also, there are so many friends you want to send Christmas cards to share Christmas happiness.
Do you still go to buy ordinary Christmas cards for friends and family? Don't you want to create special Christmas greeting cards for them at the most important time of year? Have you ever been inspired to create your own unique Christmas cards on Mac OS X after viewing various eye-popping photo cards on the websites? If so, first you have to get a good and easy to use photo card maker, here PearlMountain has provided an easy and automatic photo collage maker to make Christmas cards on Mac. Below are some brief steps for making impressive Christmas cards with Picture Collage Maker for Mac.
Step1. Choose a favorite template to make unique Christmas card
Picture Collage Maker for Mac provides more than 150 gorgeous templates for various occasions and holidays. Choose one favorite template of Christmas theme to get started making your own Christmas card.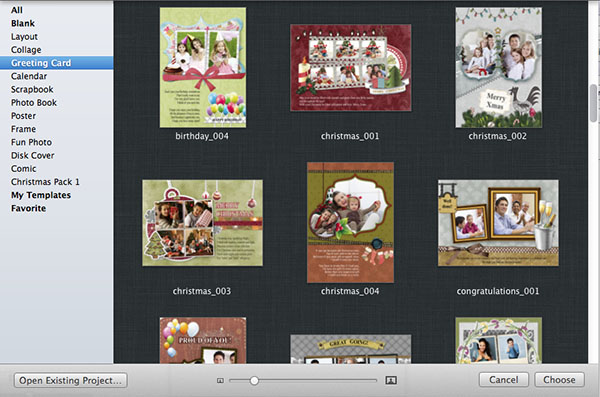 Besides, you can also download extra Christmas Pack for free after upgrading to the full version.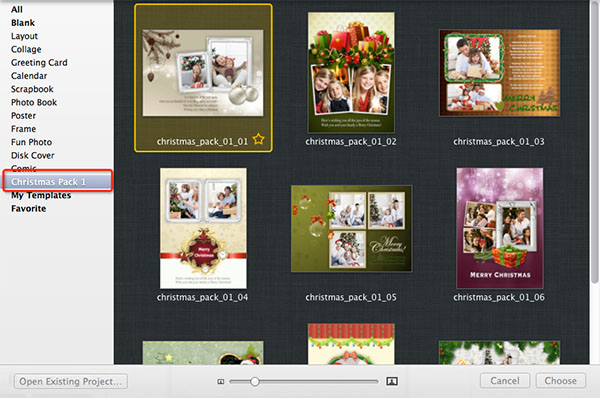 Step2. Add photos to make your own Christmas card
Pick the most memorable photos in your Finder from which you want to create a Christmas card. And then drag and drop the photos to the selected template quickly. If you regularly upload your photos to iPhoto, directly import photos from iPhoto with only one click.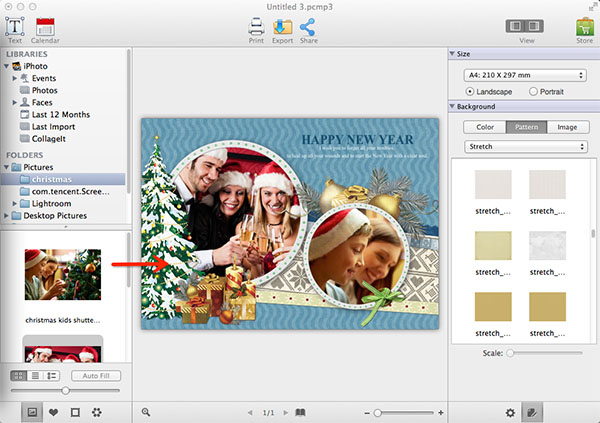 You can move, resize, crop and rotate photos to make them fit best on the card.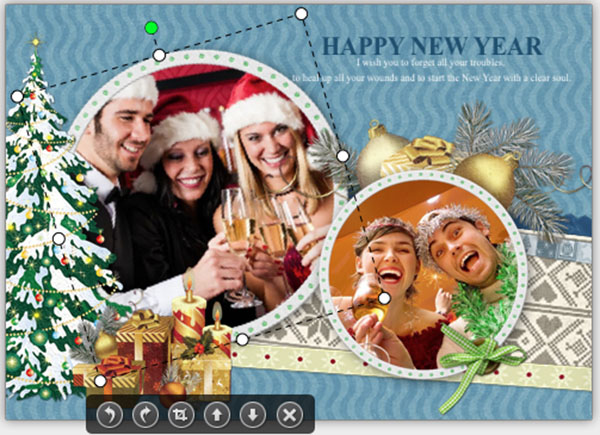 Step3. Personlaize Christmas card with abundant decorations
To make unique and special Christmas cards is never limited. You can freely extend your creativity to the most with abundant decorations provided including clipart, background, frames/masks, photo effects and text, etc.
Fancy backgrounds add a lot to the overall impression
Instead of just setting solid color or preset pattern as background, you can use your own photos - the same as you do with your computer desktop. Browse the photos on your computer, select the one suitable for the card background, and choose the mode of Stretch, Center or Tile.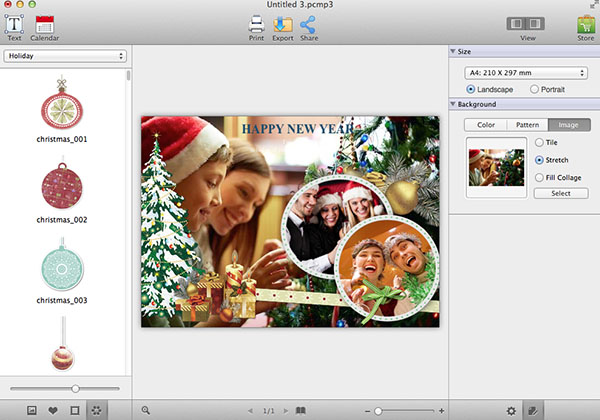 Cute picture frames/masks make your photos more beautiful.
There are many fames and masks provided in this software. Simply click to apply any one your like to the photos.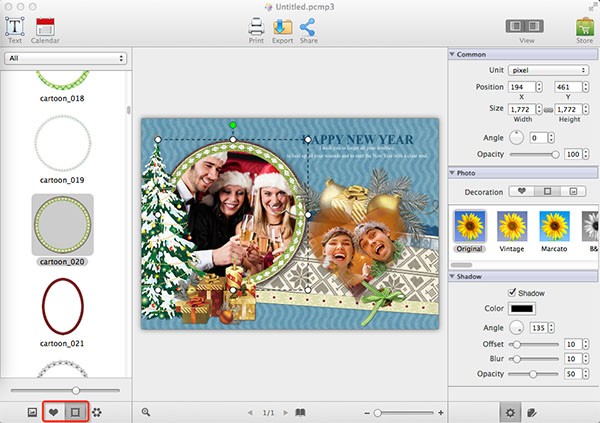 Decorate Christmas greeting card with all kinds of clipart.
You have the ability to beautify your Christmas card with lovely clipart images. Open Clipart Pane, and drag loved ones to the preferred place on the card and resize, rotate the clipart in anyway as you want.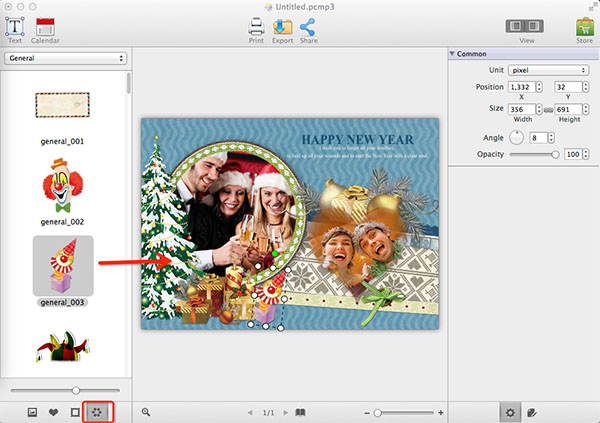 Write special and warm wish on your own Christmas card.
Click Text toolbar on the top to add text object to your Christmas card and input text on the Text panel. You can keep it simple and just type a quote of "Merry Christmas" or you can write a special message. The possibilities are endless!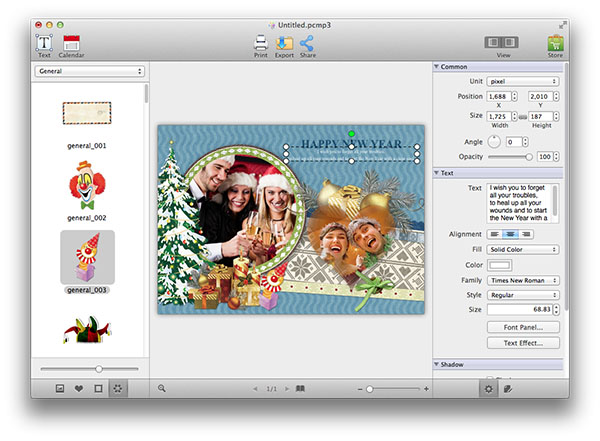 You are also allowed to set text alignment, color, font, size; and to move, resize, and rotate text to make your Christmas card more attractive.
Step4. Print and share your Christmas card.
Look, just several minutes then you're able to make a personalized Christmas card on Mac. Next, print it out and send to family and friends in the coming Christmas Day, or share the unique card with others via Email online.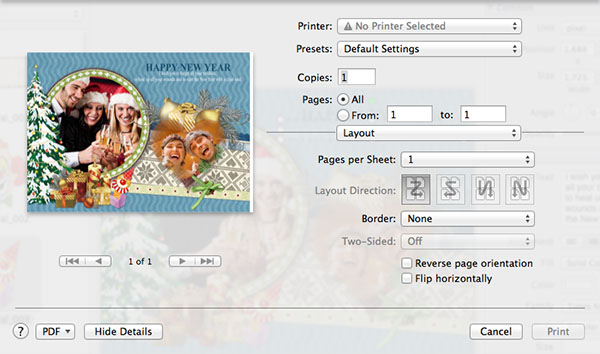 It would be the best Christmas gift for you to show love to others by creating such a memorable photo card ony your own.
Related Articles