Bring Your Family Stories to Life by Making a Family Tree
Provided that you could meet your great-great-great grandparents, what would you talk about? You might share stories about birth, marriage and any other significant family events that live in family tree records, photographs and archive documents. After all, family trees are powerful genealogy charts that organize and retain historical data related to genealogy by illustrating ancestry, descent and relationship of all members of a family or other genealogical groups.
Could you hardly wait to make a family tree cherishing your family moments and memorabilia and then bring these stories to life? If so, use excellent Picture Collage Maker connected with a rich set of family tree templates as your family tree software to create a special kind of family tree that not only shows the members of your family, but also tells their stories. The following steps will explain how to easily and quickly make your own family tree.
Step1. Choose Template
Open this family tree software and click Create From Template button. Varieties of template types appear in the popup window and then double click your desired family tree template that gives you access to create multi-generational family tree.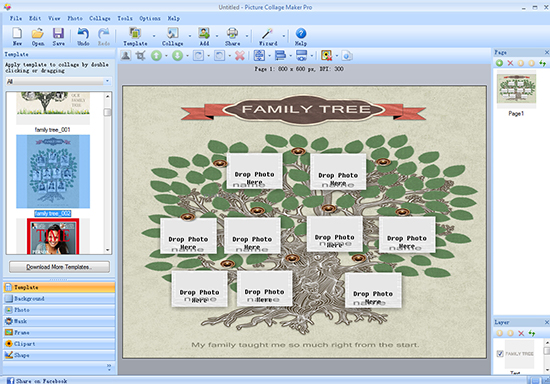 Step2. Add Family Photos
Directly click Photo button on left or click Add→Add Photo button on top of window to add photos of your family group members. Be sure to organize all photos in the right place. You can freely resize or rotate them to make them clearly visible. Besides, another important thing is that you can add their name under their photos to make your friends know them easily.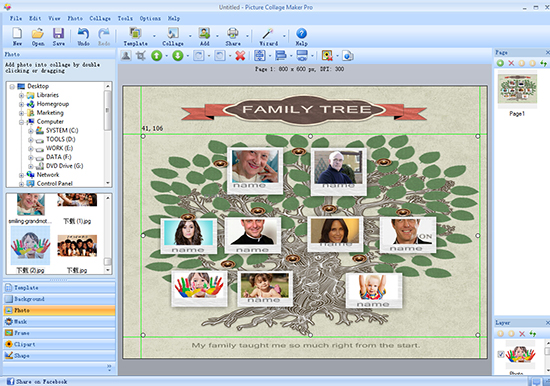 Step3. Add Family Stories
Find more information about members of your family, such as birth date and place, marriage date and sweet moment, and any other vital events happened in their daily life, etc. to highlight your family stories. Click Add Page on right and then choose Create From Blank to add a new page. Next Click Add→Add Text button on top of window to respectively type family members' stories, just like make a list for everyone.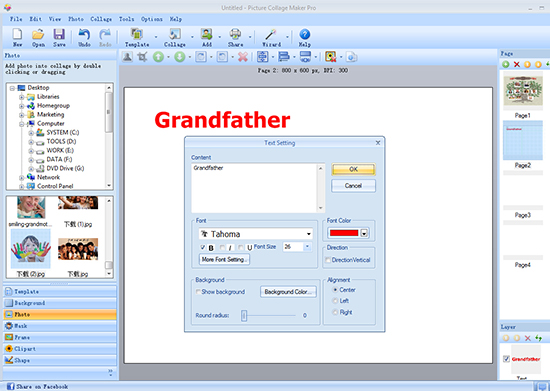 Step4. Add Clipart
Families grow like flower gardens, which all need lots of time, care and love. Use some subtly colored clipart to represent your family stories. Click Clipart button on left and choose the most representative clipart to depict stories.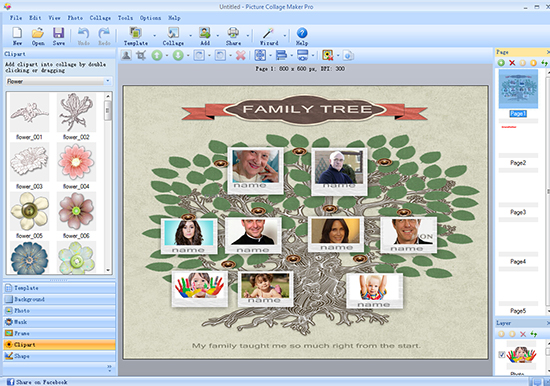 Step5. Save
With your family tree finished, you can save it as image format. Click File → Save Collage as Picture button on top and then you can save it as JPG, PNG, BMP, GIF and TIF format at will.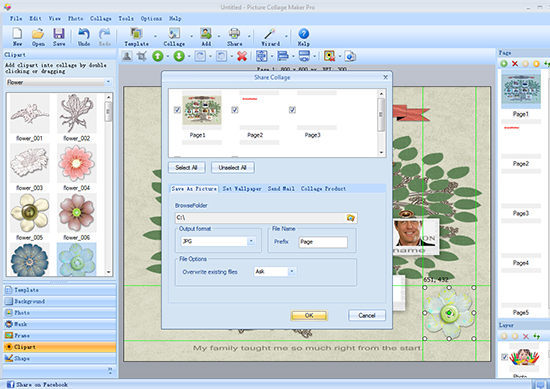 Also, you have wide options to print your family tree out, share it via email, or set as wallpaper, etc.
A family tree is a beautiful work of art as well as an informative genealogical record. It not only makes your family members cherish these stories, but also enables your friends know more information about your family.
Related Articles