Turn Photos into Joyful Keepsakes by Making Photo Collage
Do you have a lot of photos and do not know what to do with them? Why not make a photo collage to collect favorite moments of your life? In fact, you can find the best collage maker to shine a spotlight on your special moments, even to suit all your needs.
Collagelt is the one that never let you down. The powerful yet easy-to-use collage maker will enable you to create stunning photo collages with just a few of clicks. Here are some brief steps for using the photo collage maker.
Step1. Choose Template
Launch Collagelt and choose one template you like best to apply by double clicking.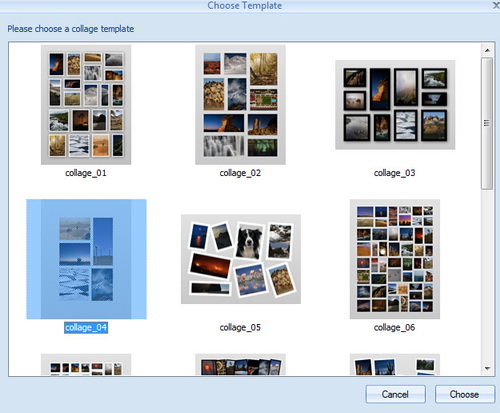 Step2. Add Photos
Click Add button and drag your favorite photos in Photo List to edit area.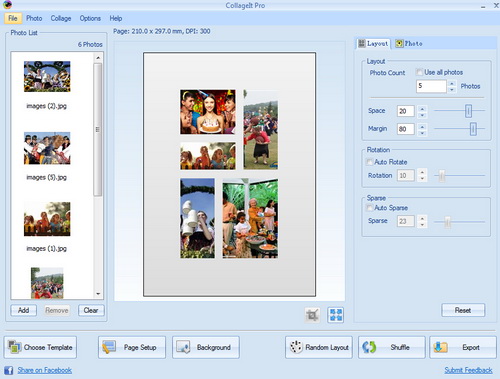 Step3. Make More Settings
Just click Page Setup pane, Background pane, Layout pane, etc., to make your photo collage more special.
Page Setup
Click Page Setup pane on the bottom to set your own Collage Size and Orientation.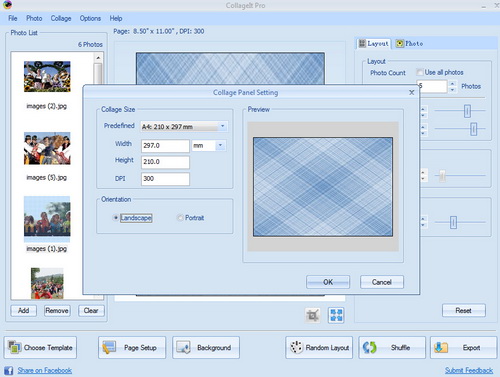 Set Background
Open Background pane then you will see two background settings, Color Fill and Image. You can adjust them according to your own preference.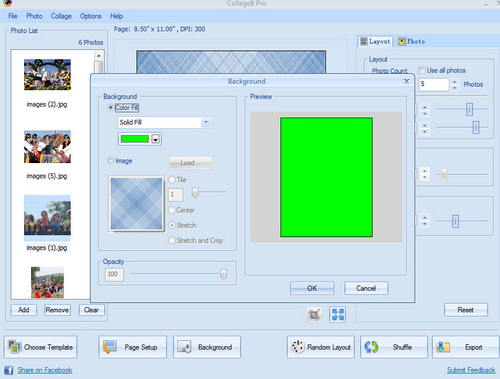 Set Layout
Click Layout pane on the right window then you can adjust its photo count, space and margin based on your own personal needs. You can also adjust its Rotation and Sparse.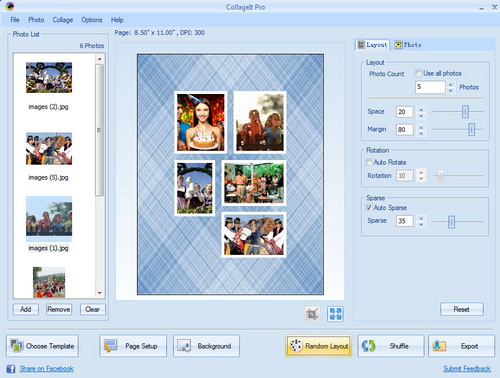 Step4. Save
Click Export pane on the right bottom and save current photo collage as image files, such as BMP, JPEG, PNG, TGA, etc.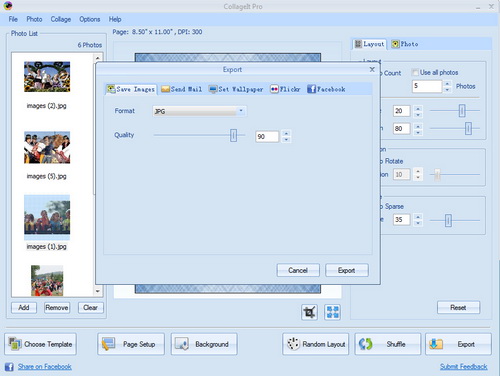 Collagelt is definitely the best photo collage maker that helps to turn your photos into joyful keepsakes without any other assistances of Photoshop. It's a powerful way to show your attention and affection to someone.
Related Articles