How to Make a Watermark for Copyright Protection
"I publish tons of photos without any watermark on my personal photo blog. I have no editing programs because frankly, I cannot afford them. But I am quite scared that people will steal them and plagiarize them for their work and all will be lost. Can somebody tell me how to make a watermark for my photos free? Please help. Thanks!"
Most of you may have the same question as above due to the sheer volume of people using and some unfortunately abusing the Internet. What can you do? The best way to protect your digital photos is by learning how to make a watermark effectively. In this tutorial you will see how quickly and easily, you photos can be watermarked with free watermark app.
1. Add photos to watermark
Launch this powerful watermark app on your Mac and then click Add Photos to import photos that you'd like to watermark. One of the great things about this program is that you can select hundreds of photos at a time by simply dragging and dropping.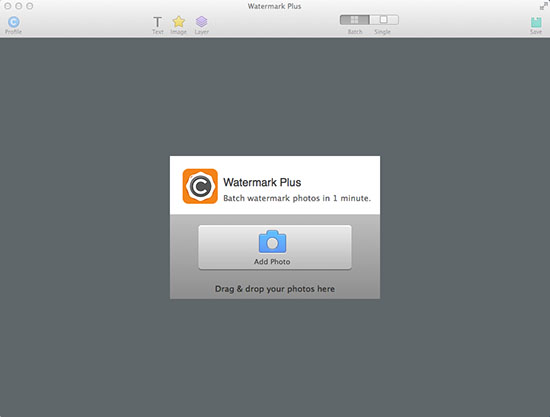 2. Add watermark to photos
The watermarks can be either text like Copyright © John Smith or images like your company's logo. You can also apply multiple watermarks in one session and each one is completely customizable on position, size and rotation.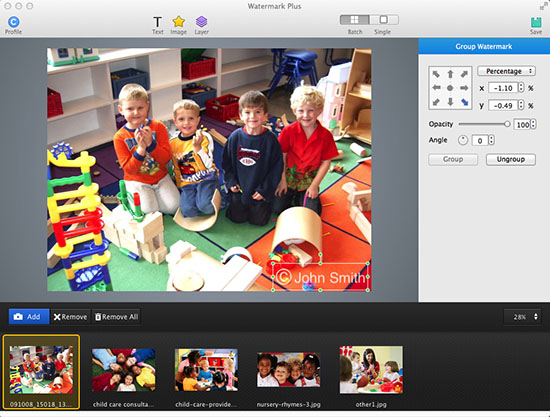 Add text watermark
To make a text watermark, click the Text toolbar on top of window and then type your name or other info in the Text box or select one of the listed options including copyright/trademark symbol, and other info stamps. You are free to set the text font, size and color, etc. on Text Watermark panel.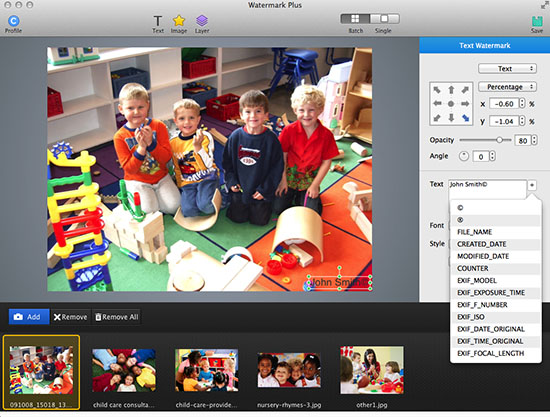 Add image watermark
To make an image watermark, click the Image toolbar on top of window. Here you can either choose a preset image watermark or load your own image like company logo as watermark.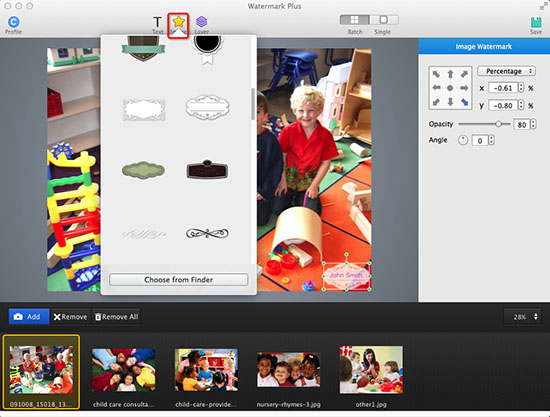 3. Manage overlays of your watermarks
Say you add more than one watermarks, you definitely need to adjust their layers. Just click the Layer button on the top and then adjust layers to bring any one front or send it back.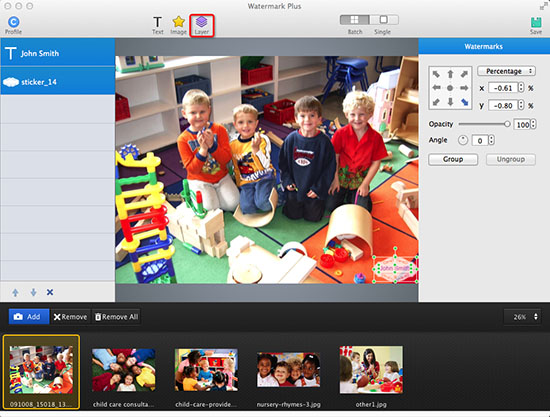 4. Save your own watermark (optional)
If you have a situation where adding a watermark to your photos is a regular thing for you, you may consider saving your own watermark for future use that will speed up your workflow whenever you are ready to watermark photos in batch. Just click menu File ->Save Profile…to save your commonly used watermark.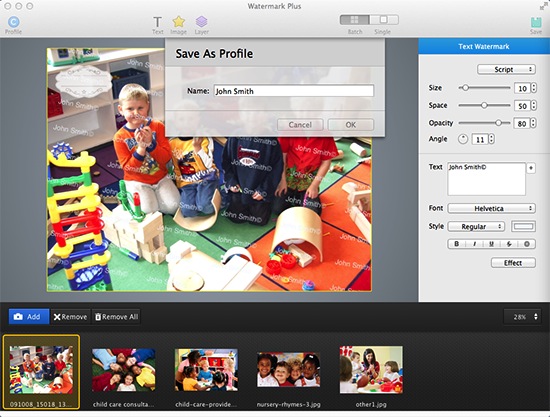 5. Export your photos
With Watermark Plus, additional operations can be performed at the same time like resizing, renaming, converting, and much more! Just click Save and then you can make export settings to your like.
This is a really simple tutorial on how to make a watermark for multiple photos. With the easy watermark app, you'll be able to quickly put watermark on your photographs/artworks without making it look too ugly while making sure you get enough credit in case your work is copied or illegally used.