Make a Personalized Photo Gift of Memories with Photo Collage Software
Still have no gift idea for someone's birthday, wedding, anniversary, baby shower or any other special events? A personalized photo collage gift created from life photos is sure to be the perfect present that will be enjoyed so much when your recipients first see it.
If you've stored huge collection of photos in your computer, why not make a creative photo collage gift that will amaze your friends or families? With some creativity and a good photo collage maker software, you can make a unique photo gift yourself. CollageIt for Mac is such a great application that delivers endless photo collage ideas with various templates and versatile functionalities.
So, what are you waiting for? Free download this photo collage software, follow below steps, use a bit of your creativity, and get going on your project.
Step1. Get A Quick Start with Various Photo Collage Templates
Launch CollageIt for Mac, in the pop up window, find your favorite template from 100+ professionally designed collage templates in total. Click Choose button to open it and start your collage design in an instant.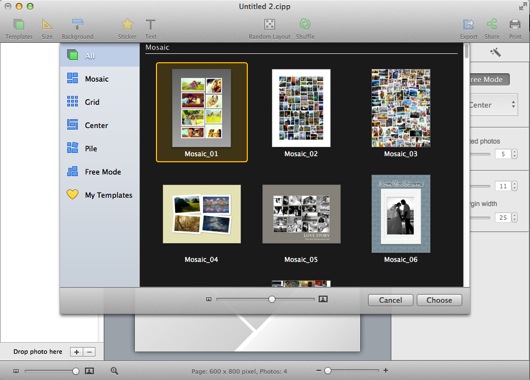 Step2. Add and Customize Your Photos
Click "+" button on the left bottom to add your family members' or friends' photos to the list. Or open Finder by the side and directly drag and drop any photo to the left photo list.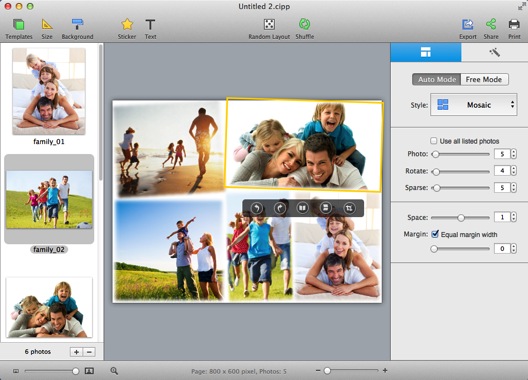 The good thing is that this photo collage software will automatically generate various layouts for you. Just click Random Layout or Shuffle to get different collage layouts continuously.
To make the photos you added show better on the collage, you can flip, mirror and apply border, photo effects, frames, masks, etc. What's more, you are allowed to move, resize and rotate photos manually under Free Mode.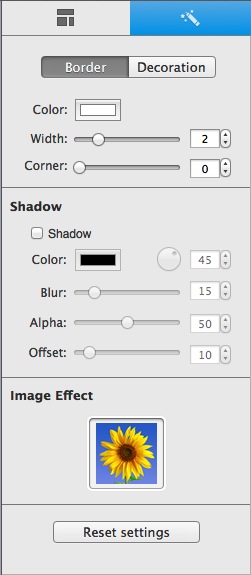 Step3. Insert Text & Stickers to Retouch Your Photo Gift
To let your families/close friends memorize some special story about this photo or to say something that express your wishes, you can click Text toolbar on the top to insert text with powerful text editing capability: adjust font, size, color, alignment, stroke, and etc.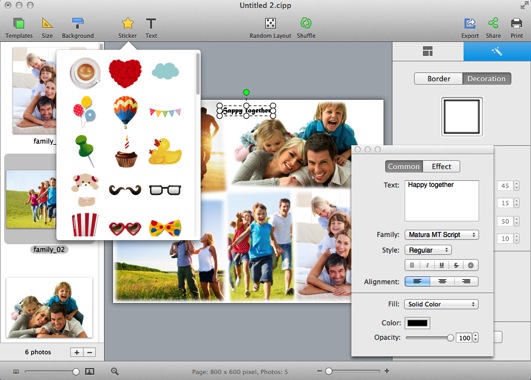 Also, you can add stickers to give your photo gift more fun. Click Stickers button on the top to choose the one you like best.
Step4. Print or Share Your Personalized Photo Gift
When you are perfectly satisfied with your final design, it's time to share it. Click Share and choose an option to share your creative photo gift online. Of course, you can print them out if you have your own printer and then send to friends or families in person. To get a perfect effect, you had better preview it before printing.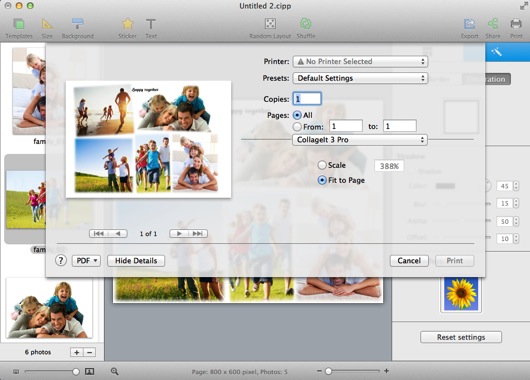 CollageIt for Mac makes photo collage creation a breeze! You'll have a fun experience creating personalized photo gifts with personal touch and sharing them with friends and family.
Related Articles