Collage Background Tips
It's necessary to set an appropriate and beautiful background for your photo collage. Here are some useful background tips on how to customize an attractive background. Now free download Picture Collage Maker to get started.
Choose Image Pattern as Background
Click Background button and then you will see lots of image patterns appear in the left window. These gorgeous image patterns are sorted as three types – Tile, Customize and Stretch so that you can easily choose your favorite one. Once you've found a pattern you like best, just apply it to your collage by directly double clicking or simply dragging.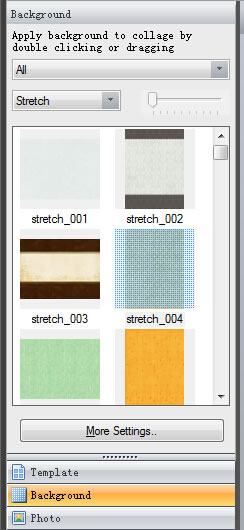 Notes: If you choose Tile as your background format, you can drag

icon to adjust the scale of your selected pattern to fit the dimension of the page.
More Settings
In addition, you can choose Color Fill or Image as your background. Directly click More Settings button on the left window or click Collage → Background Setup on top of window to get started.
Color fill: In the background dialog box, you can set your color fill in Solid Fill, Gradient (Top to Bottom) or Gradient (Left to Right).
Load image: If you choose Image as background, you can freely load your own photos. Click Load and then click Import Image button to add your favorite pictures from local disk.