Collage Frame Tips
Collage Frames are often used to decorate the border of photos. A variety of frame types are respectively provided in Picture Frame and Color Frame. It's high time to free download Picture Collage Maker and check the following useful frame tips to customize a unique photo collage.
Add Picture Frame
Click Picture Frame button and then choose Cartoon, Classic, General or Shape as your favorite frame type. Next directly double click or simply drag a frame you like best to apply it into the edit area.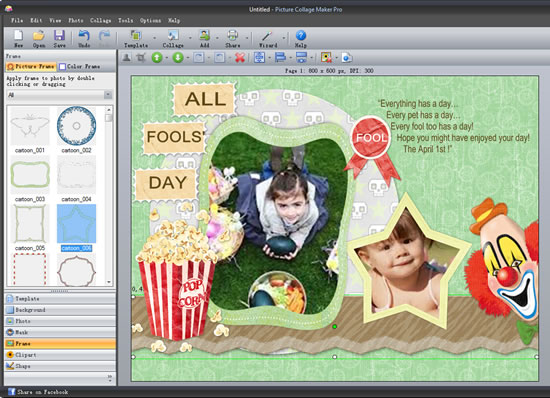 Add Color Frame
Click Color Frame button and then choose one to apply. Also, you can edit frame settings at will before applying it to your photos.
Add color frame: Click Add Button to add any color frame you want to apply.
Edit color frame: Click Edit button and then free to set your own frame width, width unit and color.
Delete color frame: If you want to delete a color frame, just choose it and then click Delete button.
Default frame: Click Default button to set a color frame as default or clear default frame.

Remove Collage Frame
Click

icon and then click Clear Frame to remove the frame you have added. Also, you can right-click on the photo and then click Clear → Clear Frame to remove it.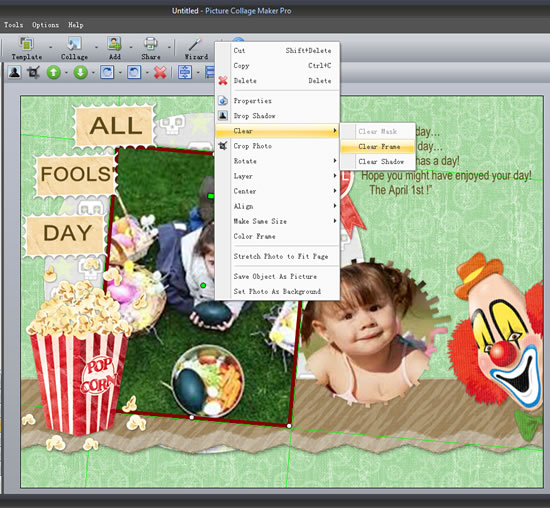 >
Frame and Mask Tips
These useful frame tips will help you create a personalized photo collage. In addition, it is worth reminding that frame and mask can't work simultaneously on the same photo. That means that if one effect is applied, the other one will vanish.