Getting Started
1 Launch Posterist for Mac
Launch Posterist for Mac and start to make photo collages, posters, cards and more.
2 Choose a template
The template window will appear as below after launching Posterist for Mac:
Choose a template from 140+ deluxe templates to get started. Templates cover six different styles: Modern, Classic, Art, Holiday, 3D and Creative.
3 Add photos
Click

button on the bottom right of each frame to add your favorite photo from iPhoto, Aperture or Mac Finder.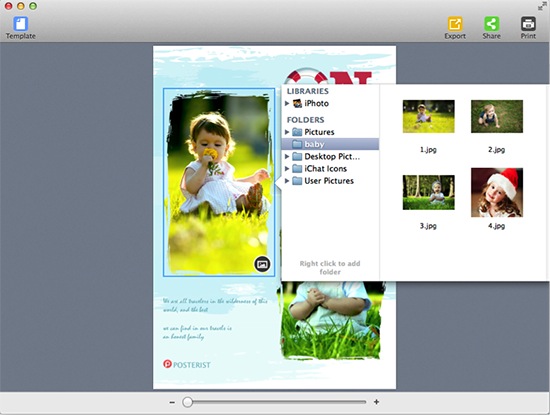 Repeat above operation to replace any existing photo to your satisfaction.
Drag and drop to exchange photos between different frames however you want.
4 Adjust photos
Select a photo and the floating toolbar will appear: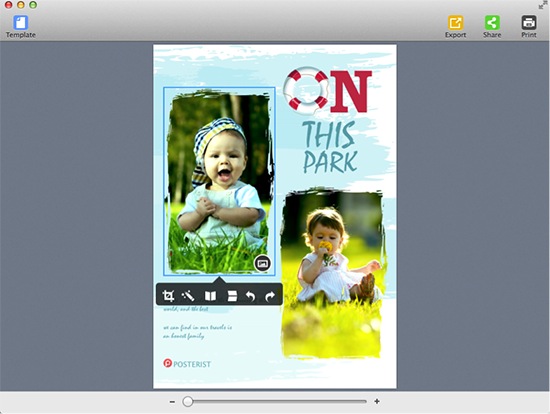 Click

on the floating toolbar to go into crop mode.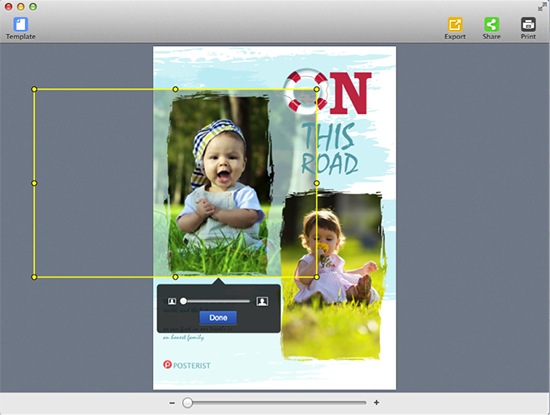 Move the photo that you want to crop within its frame. The rest part of the photo will be hidden.
Grab the crop slider to zoom in/out on the photo.
Click Done to finish cropping.
Click

on the floating toolbar to apply popular photo effects/filters to beautify your photo.
Choose Original to remove the photo effect.
Click

and

to Flip or Mirror your photo.
Click

and

to rotate photo by 90 degrees anti-clockwise or by 90 degrees clockwise.
5 Edit text
Double click the original text to input you own words.
Choose the text and a setting window will pop up where you can set text font, style, alignment and color as you need.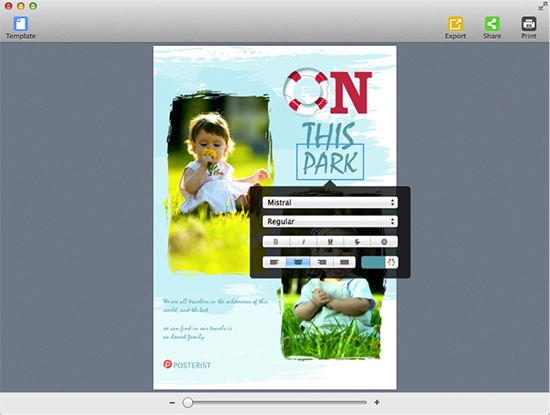 Select a text font by clicking the font combo box and then set its style as you like.
Click the shortcuts

to quickly set text format as Bold, Italic, Underline, etc.
Click

to set text alignment.
Click

to apply a specific color to your text as needed.
6 Export, print and share
Click Export toolbar button to export your design as PDF, JPG, PNG, TIFF, and BMP.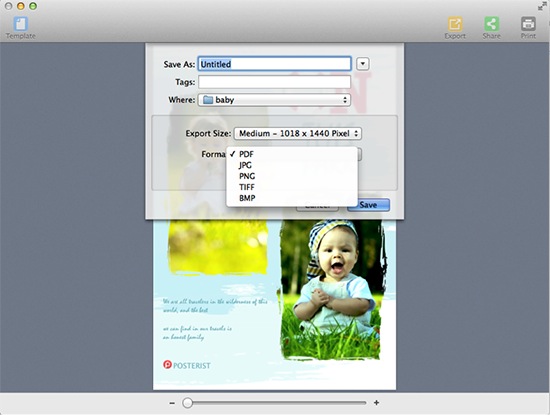 Click Print toolbar button to print the collage directly.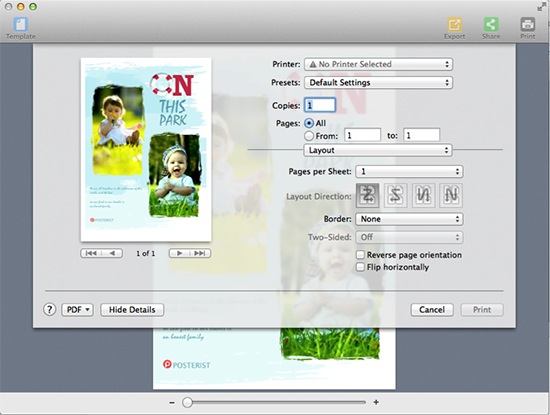 Make print settings such as Printer, Copies and Pages, etc. to suit your needs.
Click Share toolbar button to share your collage via Email, Message, Airdrop, Twitter, Facebook and Flickr.