Award
Reviews
"This is a handy tool for those who wish to create greeting cards themselves! "
- Soft32
"Greeting Card Builder seems to have almost all it takes to become a great tool to work with around holidays or when a special event requires a card.It is a great tool."
- SoftPedia
Photo Frame Master
Photo Frame Master is a photo enhancement tool. Its key feature is a huge set of various frames, which can be added to pictures to make them more original and impressive.
Version: 1.3.0
Platform: Windows 8/7/2000/XP/Vista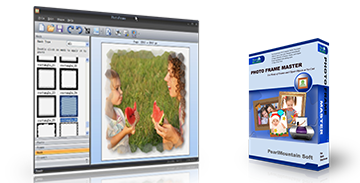 Getting started
Adding frames to photos is a way to enhance the image in an artistic way. If you want to make your images more original and impressive, Photo Frame Master is the tool that will help you turn your creativity into action! The program includes a handful of functions like automatic enhancement and editing, creating special effects, framing, adding decorations. With Photo Frame Mater, you can add stylish frames to your digital photos with an impressive look and personalize it as desktop wallpaper or upload to website as well.
Download Photo Frame Master and launch this program on your computer.
Add Images
To begin, click Photo tab and open the photo disk, select the favorite photo in your photo pane that you want to apply effect. Double click it or drag the photo in the working area.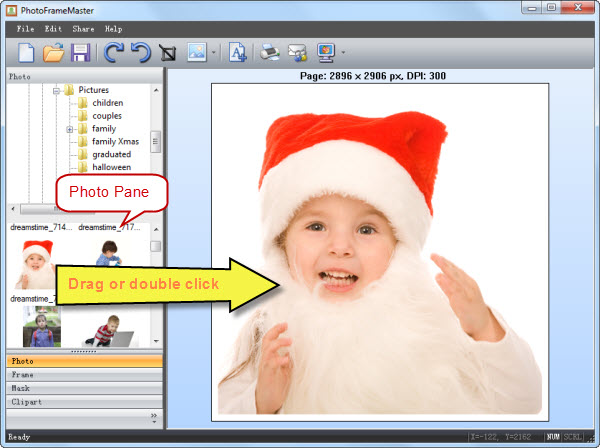 Apply Effects
The program includes both color and picture frames that are provided such as cartoon, general and classic. There is also a great variety of masks that are available to make your photo in different shape as well. The clipart diversity enables the user to make lots of funny pictures. To apply frames, masks and clip-arts, double-click the one you want to add, and it will instantly be applied to your photo.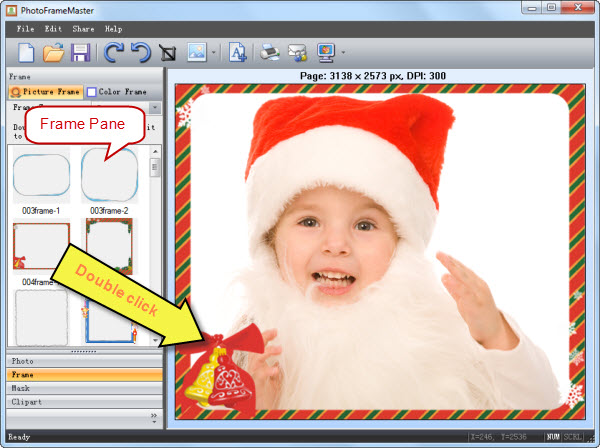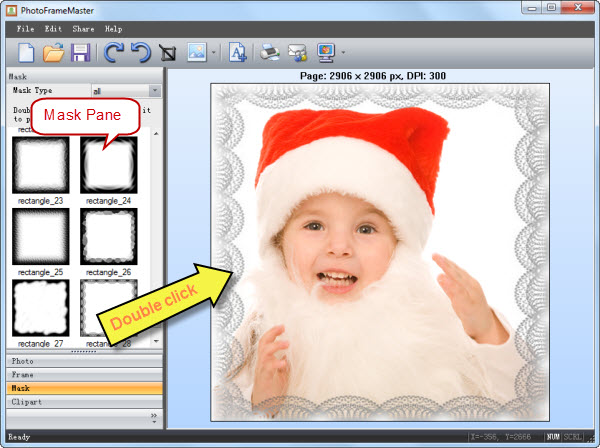 Edit Photo
To enhance you photo, you'll be able to edit basic features such as crop, flip, mirror, and inverse images, as well as adjust contrast, brightness, and hue/saturation. In addition, this application also allows you to add text to make the photo more impressive.
Share Photo
Click "Share" button, the "Set Wallpaper" and "Send via Email" features make the project can be instantly installed as wallpaper or shared, or you can print it directly from the program.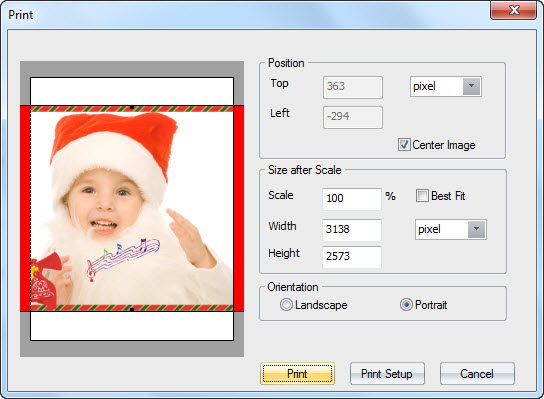 Buy Photo Frame Master

($19.90)

Download Photo Frame Master (Free Trial)